By Ken Silva pastor-teacher on Sep 11, 2011 in AM Missives, Current Issues, Emergence Christianity, Emergent Church, Features, Rob Bell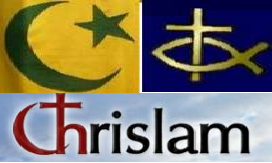 God be praised that He's seen fit to place Apprising Ministries among the leading online apologetics and discernment works.
This undeserved forum allows me to quickly alert the church visible to important issues it must face.
One of which is the very rapid penetration of apostasy into the heart of the mainstream evangelical community—particularly in its younger sectors—because of its ongoing embrace of the sinfully ecumenical neo-liberal cult of the Emergent Church aka the Emerging Church.
It's an incontrovertible fact that one of its major voices is original EC rock star pastor Rob Bell, whom you may know is a co-teaching pastor at Mars Hill Bible Church (MHBC) along with his good friend, the heretical Shane Hipps.
A few minutes ago as of this writing Hipps tweeted some startling information:
That's right; you've just read a teaching pastor at one of the most influential churches among younger sectors of evangelicalism announce to this to the world. Apparently Chrislam has now come to MHBC.
It should be noted that Hipps later tweeted something he called a clarification:
Perhaps we'll have to wait for video to see what actually happened. At best, this seems quite odd.
 See also:
ROB BELL AND POSTMODERN NEO-LIBERALISM