By Ken Silva pastor-teacher on Jun 30, 2011 in AM Missives, Contemplative Spirituality/Mysticism, Current Issues, Features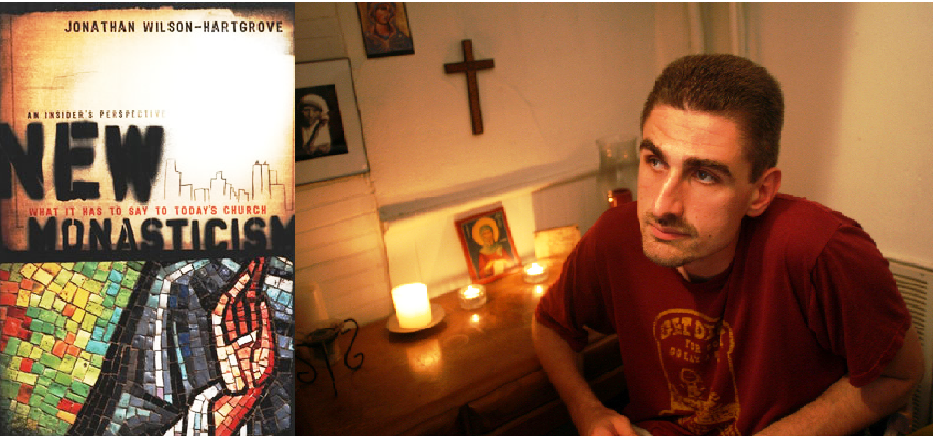 While I make no claim to know when the Lord Jesus will return, I will say that it's entirely possible we are living in a time where we are seeing the beginning of a great falling away.
And so a large part of our online apologetics and discernment labors Apprising Ministries is to document the New Downgrade within evangelicalism, which accelerated when its own mainstream made the fateful decision to more fully embrace the sinfully ecumenical Emergent Church aka the Emerging Church.
 I've told you before that the EC has proven to be a Trojan Horse where Satan was able to off-load his ne0-Gnostic mystic corruption Contemplative Spirituality/Mysticism(CSM) right within the very heart of the church visible. It's beyond question that this spurious CSM—the refried Roman Catholic mysticism "discovered" by Living Spiritual Teacher and Quaker mystic Richard Foster, and now perpetrated as supposed Spiritual Formation with an able assist from his spiritual twin SBC minister Dallas Willard, was a core doctrine in the EC right from its hatching in hell.
What's vital for you to grasp is that, having kicked out the pillar of sola Scriptura, a now upgraded to the Emerging Church 2.0 is spreading its own new postmodern form of "big tent" Progressive Christianity—a Liberalism 2.0. However, at the same time foolish evangelical church leaders, desperate to fill their buildings, began having "alternative" worship services and using materials from EC leaders just filled with Counter Reformation teachings and spirituality in their Young Adult and Youth Groups. Some 10 years rolling down that track, we're only now beginning to see the syncretism it's been causing.
You might remember in Mainstream Evangelicalism Embracing Contemplative Mysticism I supplied you with tons of documentation showing that CSM has now deeply penetrated the mainstream of the allegedly Protestant evangelical community. It's actually been slithering in for years now; so people like Purpose Driven Pope Rick Warren, unquestionably one of the most influential pastors in the Southern Baptist Convention, are becoming emboldened and no longer feel they need to hide their affinity for it. Now I'll show you that Saddleback Church certainly isn't the only SBC entity promoting CSM.
We turn to Contemplative Spirituality Lands on Charles Stanley's In Touch Magazine . . . Again. This piece over at the blog of leading online apologetics and discernment work Lighthouse Trails Research begins:
Jonathan Wilson-Hartgrove is a writer, speaker, and activist who is a leader in the "New Monastic" movement. He lives in North Carolina at the Rutba House, a new monastic community.

Wilson-Hartgrove is most recently known for co-authoring Common Prayer: A Liturgy for Ordinary Radicals with new monastic activist Shane Claiborne. (Online source)
Resisting wrestling with the serpent, for now we leave aside the serious issues with Red Letter Christian—and disciple of Tony Campolo—Shane Claiborne. Mike Stanwood, the author of the Lighthouse post, tells us that Jonathan Wilson-Hartgrove (seen below) "was recently profiled in Charles Stanley's In Touch magazine" as you can see here:
Stanwood continues:
The January 2011 article called "The Craft of Stability: Discovering the Ancient Art of Staying Put" written by Cameron Lawrence highlights the " intentional Christian community" at the Rutba House and their "daily prayer routine."

The In Touch article states that Rutba House is an evangelical community rooted in the Protestant tradition, and that Wilson-Hartgrove is an ordained Baptist minister. The In Touch article also reports that Rutba's community principles are borrowed from Benedictine monks and that all of their efforts are based on St. Benedict's "rule of life." (Online source)
Here we go mentally off-roading again into the postmodern Wonderland of Humpty Dumpty language. Stanwood is quite correct when he then points out:
However, these two statements are completely contradictory: A "Protestant tradition" and "principles" "borrowed from Benedictine monks" completely contradict each other if we are talking about a biblical tradition when we say "Protestant tradition." The contemplative beliefs promoted by Wilson-Hartgrove are not biblical. (Online source)
This is yet another example of following one's feelings rather than assessing "principles" by God's infallible and inerrant Word in Holy Scripture. I'll say it again, you need to recognize the kind of fruit that this refried Roman Catholic mysticism invariably produces. Lord willing, and should funding allow, I plan to document further for you what CSM does to those who persist in it. A good example can be seen in Peter Scazzero Bringing Rome Home To His Church; and Scazzero even comes recommended by the likes of Rick Warren and Tim Keller.
As I said before, your biggest clues are 1) as it spread through the antibiblical monastic traditions of the Church of Rome, CSM played a major role in producing apostate Roman Catholicism in the first place. And 2) just take a look at what it's done to those in the Emerging Church like its iconic rock star pastor Rob Bell, who's now openly arguing for Christian Universalism through his Love Wins mythology; and even though he adheres to postmodern neo-liberalism, he's still considered an evangelical.
Why; because he's a nice man and people feel that he must be following God; but Bell's a neo-Gnostic with a different gospel as you'll see when his mystic musings are Biblically tested in Rob Bell And Postmodern Neo-Liberalism. In closing this out, for now, above Mike Stanwood told us that this new monk Jonathan Wilson-Hartgrove—who's a leading proponent of unbiblical neo-monasticism—co-authored the book "Common Prayer: A Liturgy for Ordinary Radicals with new monastic activist Shane Claiborne."
The following two sections are from this book; first:
 
As you can see, there's praise for this apostate Roman Catholic mystic, a disciple of the troubled Teresa of Avila; as well as for his teaching about some supposed dark night of the soul. To mystics this allegedly occurs to them as they begin to grow deeper in their practice the crown jewel of CSM, a form of meditation in an altered state of consciousness commonly known as Contemplative/Centering Prayer (CCP). Dr. Gary Gilley explains:
The phrase "dark night of the soul" has become, on a popular level, the description of a period of deep depression or dryness, but this is certainly not what St. John meant… He set out, during the time of the Catholic Counter-Reformation, to explain the life of the mystic and the mystical way.

Classical mysticism is composed of three parts: purgation, in which the senses and spirit are purged of all desires; illumination, in which God supernaturally floods the soul with His love while the individual remains passive; and union, in which the soul is united with God in perfection.

Such an individual will be able to skip purgatory since purgatory's work has been completed in this life (pp. 107-108, 174). To this pursuit the medieval monks and hermits devoted their lives.

The mystical way is nowhere supported by Scripture, even though St. John makes many attempts to do so… Concerning purgation we are told that there is two stages: purgation of the senses (explained in book one) and of the spirit, the subject of book two.

The dark night is a description of these two levels of purgation. (Online source)
Then we're given the wisdom of another apostate Roman Catholic monk, Thomas Merton, the Golden Buddha of CSM. Despite the fact that Merton's life-long devotion to CCP, which would make him more like the Buddha than the Christ as you can see in Thomas Merton And The Buddhas, we are given Merton with the mystic gibberish below:
 
Finally, concerning the video interview below Stanwood is right that we'll hear "Wilson-Hartgrove [as he] talks about the concepts in his book; the new monastic movement, desert vision, desert fathers, and redistribution of wealth." In addition, the way he speaks about what Jesus did on the cross is quite consistent with mysticism's and progressive/liberalism's view that He chose to show us the way of love and to enter into human suffering by taking on the evil empire.
With this love of the self the lines blur further while such as these defecate upon the blood of the martyrs.
_________________________________________________________________________
End Notes:
[1] Shane Claiborne, Jonathan Wilson-Hartgrove, Common Prayer: A Liturgy for Ordinary Radicals [Grand Rapids: Zondervan, 2010], 65.
[2] Ibid., 61.
See also:
KEEPING YOU APPRISED OF: CONTEMPLATIVE/CENTERING PRAYER
CONTEMPLATIVE SPIRITUALITY OF RICHARD FOSTER ROOTED IN THE EASTERN DESERT AND THOMAS MERTON
TIM KELLER RECOMMENDING ROMAN CATHOLIC MYSTICISM
CONTEMPLATIVE SPIRITUALITY/MYSTICISM AS METHODOLOGY FOR SPIRITUAL FORMATION
MARK DRISCOLL AND NEO-REFORMED NEW CALVINIST CONTEMPLATIVE SPIRITUALITY
PRISCILLA SHIRER AND CONTEMPLATIVE/CENTERING PRAYER
CHRISTIAN BROADCASTING NETWORK PEDDLING CONTEMPLATIVE SPIRITUALITY