By Ken Silva pastor-teacher on Aug 3, 2010 in AM Missives, Contemplative Spirituality/Mysticism, Current Issues, Features, Word Faith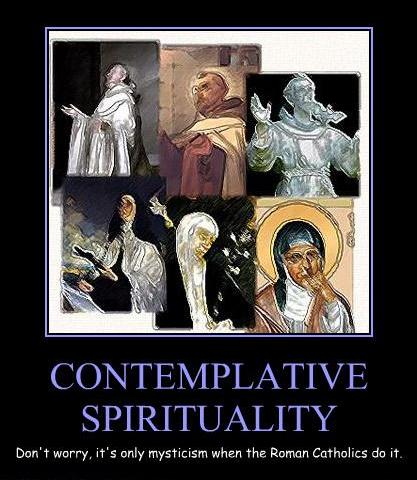 The critics of online apologetics and discernment works such as Apprising Ministries are under the mistaken impression that someone like myself goes "looking for" these issues I've been covering these past 5+ years as Jesus has built this ministry of His Gospel. They couldn't be more wrong.
What usually happens is I'll receive an email at apprisingministries@gmail.com or the contact forms, ether here or at our sister outreach Christian Research Network, where oftentimes someone is distraught to find these kind of things are being perpetrated within their local church.
Jesus knows I tell the truth when I say that I don't take pleasure in documenting the beginnings of the falling away of the mainstream evangelical community; yet I have warned you that there is a tsunami of apostasy—pushed along by 1 Peter 4:17 judgments—headed toward the church visible.
Against this backdrop Dr. Erwin Lutzer, Senior Pastor of The Moody Church, has just embarked on a sermon seriesbased upon supposed "spiritual disciplines" of "worship, meditation, generosity, prayer and fasting, and servanthood," which he calls, "A great companion to The Disciplines Of The Soul."
However, Dr. Lutzer's now treading dangerously close to the thinnest ice of abuse of God's Law and teaching Pietism when he says these disciplines "bring us to a more intimate knowledge of God"; and further, when Dr. Lutzer also tells us that these are, "Disciplines That Grow Godliness."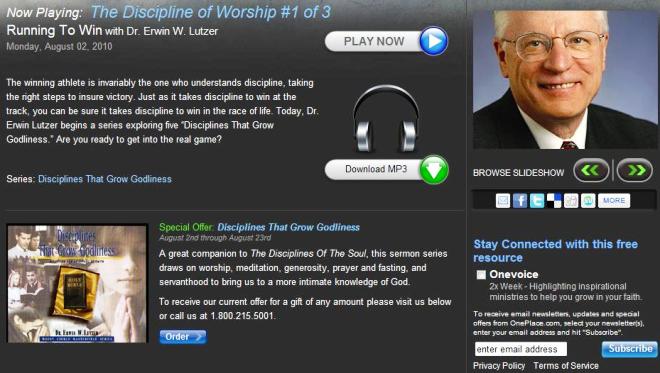 See also:
CONTEMPLATIVE SPIRITUALITY/MYSTICISM AS METHODOLOGY FOR SPIRITUAL FORMATION
DONALD WHITNEY AND SPIRITUAL DISCIPLINES: SPIRITUALITY WITHOUT BOUNDARIES
SADDLEBACK CHURCH, RICK WARREN, AND SPIRITUAL DISCIPLINES
PRISCILLA SHIRER AND CONTEMPLATIVE/CENTERING PRAYER
NEW CALVINISM'S MARK DRISCOLL ENCOURAGES CONTEMPLATIVE SPIRITUAL DISCIPLINES?
SPIRITUAL DISCIPLINES ACCORDING TO MARTIN LUTHER