By Ken Silva pastor-teacher on May 18, 2010 in AM Missives, Current Issues, Features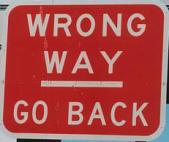 Apprising Ministries is pleased to point you to this program where my friend Derek Gilbert interviews another person I'm blessed to call a friend:
Sarah Leslie of Discernment Ministries, publisher of the excellent Herescope blog, joined us to talk about this movement–its history, its beliefs, and the links between these new apostles, mainstream evangelicals, New Agers, and political power brokers. It doesn't take a prophecy scholar to see this leading to the one-world church of the Apocalypse…

We're watching prophecy unfold before our very eyes. The New Apostolic Reformation is lifting up a generation of self-appointed, self-anointed apostles who believe they're on a mission from God to take over the world.

Recommended reading:
You can download and/or listen to this important program right here. In addition, over at the fine website Slaughter of the Sheep Chrystal tells us in her post New Apostolic Reformation:
Jan Markell of Olive Tree Ministries did a one hour program on the New Apostolic Reformation (NAR) with guest Mike Oppenheimer of Let Us Reason Ministries on Saturday, May 15, on her Understanding the Times radio program (which is one of my favorite radio programs).  It covers pertinent information as it relates to the New Apostolic Reformation and C. Peter Wagner's International Coalition of Apostles…

Ingrid Schlueter of the Crosstalk America radio program did a program on May 3rd with guest Sarah Leslie of Discernment-Ministries, Inc., which covered the same topic… Both programs will inform and educate you on the key players of the NAR, as well as the dangerous doctrines they teach. (Online source)
You will find the links to listen to both of these programs right here.