By Ken Silva pastor-teacher on Apr 1, 2010 in Current Issues, Features, Rick Warren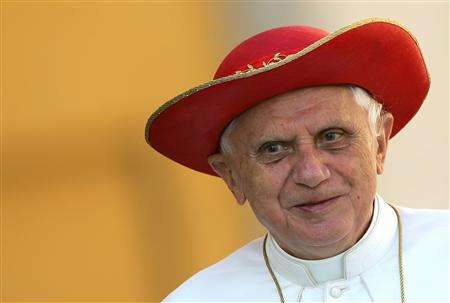 This is an adaptation of something a good friend of mine, who blogs as Coram Deo, had written over in the comments section at the online apologetics and discernment ministry DefCon. He's graciously given me permission to rework slightly and develop his idea at bit further here at Apprising Ministries concerning what's now turning into Warrengate.
As a former Roman Catholic, I do know that it's widely recognized that Pope Benedict the XVI is a very intelligent, and deeply theological, man. Based upon what John Piper is saying about Purpose Driven Pope Rick Warren, of the Church Growth Movement organization Leadership Network, adding a touch of reductio ad absurdum, could it be we'll see a Desiring God New Downgrade No-Controversy Conference next year with Dr. Piper announcing of one of his keynote speakers:
"I had mentioned some negative things earlier about high church liturgy, I said the black community didn't get into it BUT the observation was the black community, at least some of you, DID get some into Marian Dogmas and the unbloody sacrifice of the Mass. Uh mainly from the Cathechism of the Catholic Church and Vatican II, and Pope Benedict XVI, isn't uh, non-Trinitarian BUT…uh…from St. Peter's Basilica, he just conducted a Mass there, and spoke of the cross, and the mystery of transubstantiation, and I was moved. And do I, what do I think about all that?

Well I put my cards totally on the table here, um I have invited Pope Benedict XVI to come to the Desiring God New Downgrade No-Controversy Conference this fall. And he's coming. Now I will get a lot of criticism for this from my Reformed brothers, because…not because Pope Benedict XVI, as Vicar of Christ, is openly sitting in the seat of the Holy Spirit. I don't think he wears his theological distinctives on his sleeve with us separated brethren, but would be probably theologically more at home with where I am than where an Arian is. I believe that. What makes Benedict a problem, and I'm gonna… well, when I wrote him, here's what I said. And he'll probably watch this video too. I said the conference is called "THINK: The life of the Mind and the Love of God." I want you to come. You are the Universal Bishop of the Body of Christ, and I don't think you are actually sitting in the seat of an antichrist. Come and tell us why thinking Biblically matters to you in your amazingly authoritarian approach to ministry."

"I want him to lay his cards on the table. I want him to tell us what makes him tick. Because he does come across in much of what he says and does as very results-oriented, a bit universalist, and authoritarian and theologically driven, and yet, I met him for the first time last year. I like him because of his hats. He wears bad hats. And anybody who's willing to wear really bad hats in public, I like em. And we were talking beforehand and he said to me

"I'm reading all the works of Martin Luther this year. I pick a great Reformer every year and I read all of his collected works".

"'You've gotta be kidding me. Nothing you've ever said would incline me to think …' (laughter)

"So these guys are gonna go interview him tomorrow I think so you can quote some of these things. I do think he's deeply theological. He's a brilliant man. He wouldn't have the church he does or make infallible proclamations or have the teaching magisterium to interpret the Bible, or all the influence he does, and of course he's sitting in the chair of Peter, right? He is the shining Glory of God on earth. So I don't think he's all that bad. At root I think he is theological and doctrinal and sound. And what makes him tick? Actively and doing church? I intend to find out. So. I like him and I'm frustrated by some of his stuff." 
See also:
OVERSTATEMENT ABOUT RICK WARREN APPEARING AT DESIRING GOD 2010
SBC PROTESTANT PASTOR RICK WARREN DOUBLE-MINDED ON THE REFORMATION AND ROMAN CATHOLICISM
SOUTHERN BAPTIST PASTOR RICK WARREN AND SADDLEBACK CHURCH OPENLY RECOMMEND CONTEMPLATIVE SPIRITUALITY/MYSTICISM
SADDLEBACK CHURCH PASTORS USING ROB BELL TEACHINGS
DR. ROD ROSENBLADT CALLS RICK WARREN'S MAN-CENTERED THEOLOGY "ROMAN CATHOLIC"
WHAT DOES THE ROMAN CATHOLIC CHURCH TEACH ABOUT THE DOCTRINE OF JUSTIFICATION?