By Ken Silva pastor-teacher on Mar 6, 2010 in Current Issues, Emergence Christianity, Emergent Church, Features, Rob Bell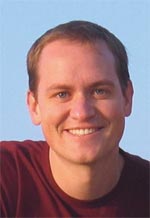 Shane Hipps is the new co-teaching pastor along with the Emerging Church rock star Rob Bell at the highly influential Mars Hill Bible Church. Just the same as his close friend Bell we know that Hipps is also a mystic who rejects Sola Scriptura in place of practicing highly subjective Contemplative Spirituality/Mysticism (CSM). 
The section below is from Hipps' sermon A Gentle Stillness , which he actually preached at MHBC prior to coming on staff as a pastor. What's important here is Hipps tells us how he began practicing "silence." Silence is mystic-speak for the practice of meditation in an altered state of consciousness, which is also known as Contemplative/Centering Prayer. 
And notice carefully how Hipps shares with us that he was taught this practice by a woman and former pastrix who also happened to be a Quaker. It's no surprise that the leading proponent of this romanticized Roman Catholic Counter Reformation CSM now spreading through evangelicalism is Emergent Church mentor and Quaker mystic Richard Foster.
Hipps now tells you how he began practicing CCP, which is really nothing more than a form of transcendental meditation very lightly sprayed in Christian terminology:  
I go to seminary and for three years and I'm trying to sort of sort out what it is I'm supposed to do; and I went and met with counselors, and psychologists…and I met with mentors and supervisors and all kinds of different people to try and help me get this stuff. I went through these personality inventories. I took career counseling tests…I did all kinds of things. In fact, one of them…there I am three years into seminary (after I've left the world behind) and one of the first things on the list of things I should be involved in the career counseling…guess what – advertising (laughs). I'm like, "woo hoo thank you Jesus!" 

Uh…so that was unfortunate…so I basically hit the wall…I can't seem to find what it is I'm supposed to do…and I'm sitting there trying to sort all of this out. And I stumbled upon a spiritual teacher, a spiritual director who was a retired pastor of 30 years, and she lived in a Quaker retirement community. And when I went to meet with her the first time, what I learned very quickly is that she had absolutely no interest in all the stuff I was asking. Like, I wanted to know, "Okay, I've got this and this and I'm good at this, but I'm not very good at this…I want…maybe I should do this…." And she didn't bite at all. She just kinda' sat there and listened and after a little while she…she informed that the way she likes to operate is when we come together, we sit in silence together. I'm like, "Awesome, that's just what I want to do cause I LOVE silence." 

So, we would practice this together…we would sit together for the first 10-15 minutes of our time together in silence…together; and it was very odd. It wasn't awkward, but it was odd for me and I started to kind of learn how to "anchor" in her silence; and then she would give me different instructions and ways of sort of techniques to help me practice silence on my own – that was the only thing she was after – and she was convinced that she said, "The answer to your question you will not get by looking out there. Your only way to get this answer is going within and practicing silence." And so I started doing this; and over the course of about a year of practicing this silence regularly…
See also:
SHANE HIPPS CO-TEACHING PASTOR WITH ROB BELL
SHANE HIPPS AND ROB BELL TEACHING HERESY
SHANE HIPPS, CO-PASTOR WITH ROB BELL, SAYS ALL RELIGIONS VALID
THROUGH ROB BELL "THE GREAT ENLIGHTENED ONES" TELL US MAN HAS DIVINE GREATNESS