By Ken Silva pastor-teacher on Jan 21, 2010 in AM Missives, Current Issues, Features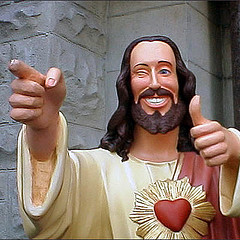 In the last fifty years or so our Creator's loving nature has been nearly completely lifted out of its proper biblical context—and it's been accomplished at the expense of the righteous justice of Almighty God.  You can see a good example of this in the Apprising Ministries piece Doug Pagitt And Arrogance Of Liberal/Progressive Christians.
There you'll see an excerpt of an exchange between Doug Pagitt, heretical quasi-universalist Emerging Church (EC) pastor, and Todd Friel where Pagitt purrs:
there's going to be no difference between the way God going to interact with you when you die and the way God's going to interact with a Muslim when a Muslim dies. (Online source)
For those with eyes to see, herein is Satan's strategy revealed. The devil knows that the Church of our Lord is only powerful as it spreads His Gospel and fights against his attempts to demean the character of Christ. However, it seems to have been lost upon softhearted, and even softer-headed EC leaders, that Satan is no friend of Jesus.
The truth is that Satan is also known as the enemy of men's souls for very good reason. And what the enemy and his minions are currently doing is using these many of these loathsome pawns in the Emerging Church aka Emergent Church—originally propped up and advanced by Leadership Network—and which morphed into the Liberalism 2.0 cult of Emergence Christianity.
As an arm of the Church Growth Movement the EC is continuing right along with its semi-pelagian pragmatism in attempting to create a "softer, gentler" Christ, as cuddly as a teddy bear. And Satan's ultimate goal in all of this is to "lovingly" silence any opposition, precisely as A.W. Tozer already cogently pointed out years ago:
[Satan] reminds us that when Christ, as a lamb brought to the slaughter, opened not His mouth–and suggests that we do likewise. Then if we notice his foot in the door and rise to oppose him, he appeals to our desire to be Christ-like. "Love everybody and all will be well," he urges. The shepherd, taken in by this sweet talk, is afraid to use his club, and the wolf gets the sheep! (Renewed Day by Day, August 25)
If you do not want to get caught up deeply in the shadows of this growing apostasy within mainstream evangelicalism, then you need to understand that the moment one stops faithfully taking at face value what God says in His Word, they will shortly become lost in the labyrinth of conflicting feelings and reprobate emotions of mankind's sinful nature.
 And this is why the wise person will heed the following warning from Holy Scripture: There is a way that seems right to a man, but in the end it leads to death (Proverbs 16:25).
See also:
THE EMERGING CHURCH AGENDA AND DOUG PAGITT
EMERGENT PAIN AND DISCORD IN THE EMERGING CHURCH
EMERGING WRONG VIEW OF THE BIBLE
THE EMERGING CHURCH SOWING ITS NEO-ORTHODOX CONFUSION ON SCRIPTURE
NEO-ORTHODOXY: AN EMERGENT OVERVIEW
CONTEXTUALIZATION OR REMOVING CONTEXT AND CONTENT?