By Ken Silva pastor-teacher on Dec 1, 2009 in Current Issues, Rick Warren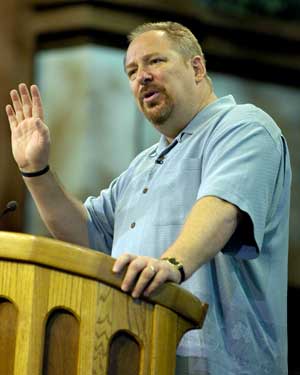 Well ok, it's not so much that Purpose Driven Pope Rick Warren himself is any radical, but he does want to make sure you know that his next generation seeker-sensitive boyz sure r. I'm sorry about being plain; you see, I don't have a keyboard that can reverse the letter r to be more rad.
However, today via the mass email "Chat Live With Pastor Mark Driscoll tomorrow, December 2 about Radicalis," Warren announces that we can, "Chat live with Pastor Mark Driscoll" tomorrow at 11AM West Coast time. Warren then tells us that we'll "learn more about what [Driscoll will] be speaking on at Radicalis this February." 
According to Rick Warren one can "ask questions and interact with this dynamic pastor and Christian leader." The speakers for Radicalis, "10 Conferences in One," include familiar names around the "seeker" driven section of the man-centered Church Growth Movement like Andy Stanley, Perry Noble, Kerry Shook, and now Mark Driscoll.
We're told that the "Radicalis Experience" at Saddleback Church promises to be one of "Absolute Surrender, Sacrificial Lifestyle, Authentic Christianity… A Radical Experience" which is why:
Rick Warren and his team invite you and your team to attend Radicalis, February 9-12, 2010… Radicalis is a unique hands-on, comprehensive experience that will enhance each member of your team's role in your church and build and inspire them to serve God in your community and the world. Rick Warren, the Saddleback Team and leading national pastors will challenge, develop, and expand your vision to be a moving force for God in today's world.

They'll help you understand the paradigm, learn the process and build relationships for expanding your ministry. They'll enlarge your understanding of what "church" and "ministry" mean to enable you to affect positive, purposeful change for God. (Online source)
Here's an idea; save your money, and spend the time you'd waste at Radicalis in prayerful study of God's Word instead. I know it's hard to believe, but in it you won't find Rick Warren, or his team, these big "name" man-centered preachers, or any of the pragmatic good ol' American business saavy Warren et al dispense; and believe it or not, God has still managed to grow His Church anyway.
There's a vision for you to catch…
See also:
SBC PROTESTANT PASTOR RICK WARREN DOUBLE-MINDED ON THE REFORMATION AND ROMAN CATHOLICISM
DR. ROD ROSENBLADT CALLS RICK WARREN'S MAN-CENTERED THEOLOGY "ROMAN CATHOLIC"
SADDLEBACK CHURCH PASTORS USING ROB BELL TEACHINGS
DISCIPLINES TO DECEPTION IN SOUTHERN BAPTIST CONVENTION
CONTEMPLATIVE SPIRITUALITY/MYSTICISM CREEPS CLOSER…TO YOUR CHURCH