By Ken Silva pastor-teacher on Nov 25, 2009 in Current Issues, Emergence Christianity, Emergent Church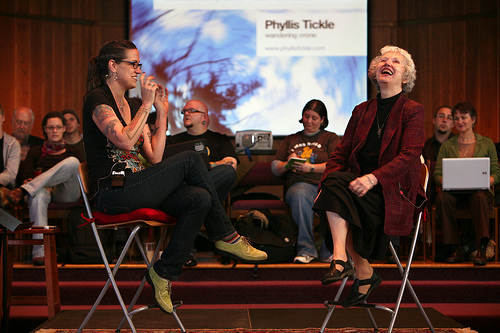 Apprising Ministries first introduced you to "queer inclusive" ELCA "pastor," and former "professional f**k-up," Nadia Bolz-Weber in Christianity 21 And Alleged Innovative Voices In The Faith: Nadia Bolz-Weber. I told you she was one of "Voices" at a recent apostasia-palooza of the postliberal cult of the egregiously ecumenical Emerging Church aka Emergent Church—morphing into Emergence Christianity (EC)—that was called Christianity 21 (C 21).
You may recall C 21 was put on by heretical EC leader Tony Jones, "theologian in residence" at the EC church of his equally heretical—and JoPa partner—quasi-universalist pastor Doug Pagitt. C 21 featured women who would supposedly be revealing "the way the Christianity will be changing in coming days." Then in Outlaw Preacher Nadia Bolz-Weber I showed you that pastrix Bolz-Weber has also openly aligned herself with the rather rapscallion bunch who have anointed themselves Outlaw Preachers (OPs).
This growing, largely Biblically illiterate, group of OPs are now busy slithering up around head Outlaw gay affirming "pastor" Jay Bakker. In Emerging Church To TransFORM Outlaw Preachers I pointed out that this Emerging Church Group TransFORM, which is a social network created by "Kingdom Journalist" Steve Knight of Emergent Village, has fully embraced the OPs. As of this writing OPs are some 107 strong; and as a matter of fact, the upcoming Outlaw Preacher's Reunion will be at Bolz-Weber's HFASS church. 
A little while ago today Bolz-Weber tweets:
An example of a very well done interview. Deborah Arca Mooney interviews me about my faith tattoos http://tinyurl.com/ygvruvk (Online source)
That link takes us to an article entitled Tattoo Faith where we're told by Deborah Arca Mooney:
I first met Pastor Nadia Bolz-Weber on a Sunday evening before worship at her emerging liturgical Lutheran church, House of All Sinners and Saints, in downtown Denver.  As she extended her hand to greet me, I noticed her arms were covered in colorful tattoos, but it wasn't until I ran into her again a few days later that I got a closer look. 

When I mentioned I was looking for someone to write about the Christian liturgical year for Patheos, she pulled up her sleeve and smiled. "I have the liturgical year tattooed on my arm."…

I sat down with Nadia recently at St. Mark's coffeehouse in Denver to ask her about her tattoos, the relationship between her body art and her faith, and "tattoo evangelism." (Online source)
Remember when the tattooed ladies were a sideshow in the circus; not so today, now they are so brazen as to defy the Word of God and be crowned pastrix of apostatizing churches.
See also:
MARTIN LUTHER SAYS NO…TO WOMEN PASTORS
NADIA BOLZ-WEBER ON OUTLAW PREACHERS PODCAST
LUTHERAN PASTRIX NADIA BOLZ-WEBER ON A JESUS AND THE ELCA
DID NADIA BOLZ-WEBER JUST CALL JESUS "A SCHMUCK"?
NADIA BOLZ-WEBER WEIGHS IN ON ELCA CHURCH-WIDE ASSEMBLY
NADIA BOLZ-WEBER: SERMON ON JUDAS AND GRACE GONE WILD
THE NEW CHRISTIANS WITH CHRISTIANITY WORTH BELIEVING—NO SOLA SCRIPTURA: YES, WOMEN PASTORS AND QUEER CHRISTIANS