By Ken Silva pastor-teacher on Nov 18, 2009 in AM Missives, Current Issues, Word Faith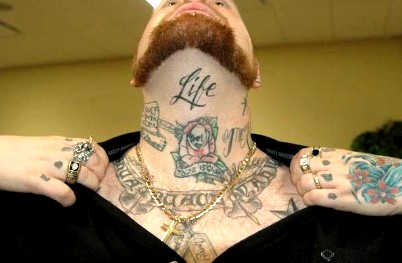 As a prelude to publishing an open letter to Todd Bentley, seen here applying for membership in the Outlaw Preachers—who just love their tats—my good friend Bud Press of Christian Research Service begins his post by saying:
Maybe it was just a glitch in Todd Bentley's computer. Or, maybe Bentley accidentally hit delete instead of post. Or, maybe Bentley actually read the comments and chose to hit delete before his followers had a chance to read them.

Whatever the case may be, stuff disappears, including the following October 19 comments on "The Todd Bentley Blog" at http://www.freshfireusa.com/blog (Online source)
You can read the entire piece from Bud Press right here.
See also:
TODD BENTLEY'S OTHER WOMAN SPEAKS
DISGRACED TODD BENTLEY PREPARES FOR RETURN
TODD BENTLEY IS ABSOLUTELY A FALSE PROPHET, A PHONY, AND A FRAUD
KEN SILVA ON CROSSTALK RE. TODD BENTLEY AND LAKELAND REVIVAL (YOU TUBE VERSION)
JOHN CROWDER AND THE NEW MYSTICS
BLASPHEMY INCORPORATED: TERMS AND CATCH-PHRASES OF THE UNGODLY