By Ken Silva pastor-teacher on Sep 4, 2009 in AM Missives, Brian McLaren, Current Issues, Emergence Christianity, Emergent Church, Features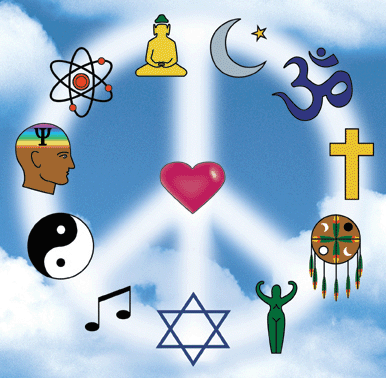 …always learning and never able to arrive at a knowledge of the truth.
(2 Timothy 3:7)
Say Goodbye To The Christian Faith
Apprising Ministries now shows you that Guru Brian McLaren, incontrovertably a premier leader within the egregiously ecumenical Emerging Church aka Emergent Church—morphing into Emergence Christianity—(EC), has officially announced he would simply like a different god than the one true and living God of the Bible.
Today McLaren informs us that:
Sister Joan Chittister writes a provocative reflection on God and evolution, and on the God of evolution, here. (Thanks Mike Todd!) There are strong resonances between what Joan is saying and what my upcoming book explores. Most of us grew up learning about the God of Laws, the God who made sense in Sir Isaac Newton's mechanistic universe.

(Nothing expressed this contextualization better than the little booklet "Four Spiritual Laws," which could have been called "Four Spiritual Mechanisms.") Now, we are struggling to imagine a bigger God, a God who makes sense in the evolutionary universe of Darwin, Einstein, LeMaitre, Hubble, Heisenberg, and Kuhn … (Online source)
For more on Living Spiritual Teacher and Benedictine monkette Joan Chittisler, who also happens to be "the Executive Director of Benetvision: A Resource and Research Center for Contemporary Spirituality," we refer you to Contra Christianity Today And Their Benedictine "Wisdom". The more emergent these false prophets of this EC become the more they go emerging into another religion of neo-Gnosticism bearing less and less resemblance to the Christian faith. 
I talked about this in Mysticism Melds Muslim Mystics To Tony Campolo And Emergence Christianity; what these proponents of EC are doing is setting our youth up to accept their blend of Contemplative Spirituality/Mysticism with the scientific speculation of Emergence Theory (ET). In the book A is for Abductive, Leonard Sweet, Brian McLaren, and Jerry Haselmayer tell us "E is for Emergence"; and as they explain this theory you'll understand why this EC is so community-oriented. Briefly they tell us ET is "an approach to science that is sensitive to the ways a whole can become more than the sum of its parts…" (107).
One of the main reasons why these Apostles of Unbelief are high on ET is because therein the EC finds a vehicle into which they can also incorporate the theory of evolution along with the Christian faith. You see, in their delusion Emergence theory is:
A postmodern way out of the science versus Scripture, creation versus evolution ("evil-ution") wars. Emergence theory incorporates into an intellectual and spiritual framework ancient and recent arguments of intelligent design (focusing on diversity and complexity) with certain aspects of evolution (natural selection and the fossil record).

In this view, part of the goodness of Creation is an inherent potential to generate new possibilities so that more and more goodness can emerge. Emergence is a faith-friendly view of the world that dethrones reductionist [i.e. analytical] thinkers… (108, 109) 
All we need for a bad episode of the original Star Trek is for Captain Kirk and Mr. Spock to pop up saying, "Beam us up Scotty." And you can read the rest of McLaren's musings here.
See also:
BRIAN MCLAREN OF EMERGING CHURCH TO CELEBRATE RAMADAN
BRIAN MCLAREN AND EVANGELICAL PANENTHEISM
BRIAN MCLAREN AND EVANGELICAL PANENTHEISM (PART 2)
NON-GOSPEL OF BRIAN MCLAREN AND ROB BELL
EMERGENCE CHRISTIANITY—A POSTLIBERAL CULT SLITHERS INTO EVANGELICALISM
THE EMERGING CHURCH HIGHJACKING EVANGELICALISM