By Ken Silva pastor-teacher on Jul 3, 2009 in AM Missives, Current Issues, Emergence Christianity, Emergent Church, Features, Homosexuality/"Christian", Jay Bakker
DOWN WITH SOLA SCRIPTURA! 
Not knowing how much time we have left Apprising Ministries is doing what we can to warn the Body of Christ of a very threatening same-sex storm growing; one which is rapidly picking up speed through the embrace of corrupt Contemplative Spirituality/Mysticism within the alleged "Protestant" sectors of the visible church, and this growing and angry storm—right now approaching hurricane force—is currently just slightly off the coast of the mainstream evangelical community. A case in point is Megan Rohrer, "the first openly transgender Lutheran pastor ordained in the United States."
You may also recall that we've shown you e.g. in Emerging Church: "Gay Affirming Pastor" Jay Bakker On A Mission From God where Emerging Church aka Emergent Church, now morphing into Emergence Christianity (EC), pastor Jay Bakker feels God has now changed His mind about homosexuality, which is the unrepentant practice of sexual immorality with a member of the same sex:
"The more I follow grace, the more I'm drawn to him [God], the more I'm willing to stand up for people being persecuted," said Bakker. "It sounds so churchy, but I felt like God spoke to my heart and said '[homosexuality] is not a sin.' " (Online source, emphasis mine)
Those who've read the AM post Oxymoronic 'Homosexual Christians' Focus Of Barna Report will know that both Jay Bakker and Emergent Village were doing all they could to get people to support an exhortation from Mel White, the openly gay "Christian" co-founder of Soulforce—a militantly pro-homosexual group—to sign a petition "to expand Civil Rights Act to include GLBT people." Well, it sounds so pastoral, but I felt like Jesus spoke to my heart and said warn the church that these people all know each other.
And so I am; through the myriad of social media today it's very easy for information to be spread and aquaintances to be made. This issue of accepting, as a viable Christian lifestyle, some people—namely gay, lesbian, bisexual, transgendered, queer (GLBTQ) people— committing the sin of sexual immorality is one that many EC leaders are now rallying around. And I say only some people committing sexual immorality because I've yet to see, for example, Sexumergent for those folks who really enjoy sexual relations; and then say it must be okay for them to have multiple partners because this is the way God made them.
Which brings us back to Jay Bakker,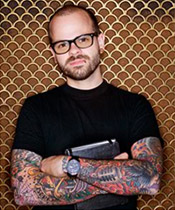 the EC pastor of Revolution Church where they want us to know they're "sorry for being self-righteous judgmental bastards". Bakker is set to be one of the speakers for the 2009 ELCA Youth Gathering—Jesus Justice Jazz, July 22-26 in New Orleans. You may recall this is also the denomination which ordained "queer inclusive pastor" Nadia Bolz-Weber. For those who don't know, Bolz-Weber will be sharing her message "Authority; Authenticity and A**holes" at the upcoming EC gathering Christianity 21.
But both Bakker and Bolz-Weber actually share in their homopression of the GLBTQ people they profess to love. You see, those who reject Sola Scriptura in favor of what they "feel" God is saying love to cry "homophobia" when someone like myself loves them enough to confront them with what the Lord has said in Holy Scripture. Well, as I said previously Homopression Is At Least As Bad As Homophobia, by homopression I am referring to not telling someone—claiming to be Christian—who self-identifies as GLBTQ the truth concerning their lifestyle; thereby leaving them under the oppression of their sin.
Dr. Donald Grey Barnhouse put it so well many years ago in his classic exposition of the Book of Romans when he brings out the proper Christian response "toward the poor individuals who are enmeshed in these depravities." The answer is certainly not found in lying to them like Bakker and Bolz-Weber and others in the EC are doing; and while I don't agree with everything Barnhouse taught, he is dead-on-target here:
What is to be the attitude of the church toward these people? For they are now in our population, numbered by the thousands… In the first place, they must be surrounded by Christian love and care on the highest plane. They are not to be shunned, but must be welcomed into normal Christian society and not made to fell like pariahs. (Vol. 1, 278)
Ah, but we don't just stop there leaving them under the oppression of their sin; no, our love for sinner for whom Christ died must compel us to offer them the only real hope for freedom in the resurrection power of Jesus as Barnhouse goes on to point out:
We have a hymn that expresses the true Christian attitude toward these, as toward all who are in the bonds of deep sin:

Rescue the perishing, care for the dying,
Snatch them, in pity, from sin and the grave;
Weep o'er the erring ones, lift up the fallen,
Tell them of Jesus, the mighty to save.

Down in the human heart, crushed by the tempter,
Feelings lie buried that grace can restore,
Touched by a loving hand, wakened with kindness,
Chords that were broken will vibrate once more. 

Rescue the perishing, care for the dying,
Jesus is merciful, Jesus will save.

Rescue the perishing, duty demands it;
Strength for thy labors the Lord will provide;
Back to the narrow way, patiently win them,
Tell them of Jesus, the Savior, who died.

For there is hope for them in the Lord Jesus Christ, and there is no hope for them anywhere else in this world. There is salvation from the penalty of sin and there is salvation from the power of sin. The Lord Jesus Christ is able to save and to keep, and He is able to give you love for the unlovely and zeal for the rescue of the lost (ibid., 278, 279)
But lying to GLBTQ people by telling them that their deviant lifestyles are acceptable to God is not love at all; in fact, it's actually the height of cruelty. And that's why I asked once before Does "Gay Affirming Pastor" Jay Bakker Really Love Gay People? Well, I do; and so hear me good, I have zero intention to stop drawing attention to this ongoing homopression prepetrated upon GLBTQ people by more and more within the quasi-universal and egregiously ecumenical Emerging Church community.
See also:
POPULAR EMERGING CHURCH WEBSITE THE OOZE SLITHERS OUT OF THE GLBTQ-AFFIRMING CLOSET
OXYMORONIC 'HOMOSEXUAL CHRISTIANS' FOCUS OF BARNA REPORT
MAINSTREAM EVANGELICALISM NOW ON THE RAPID SLIDE TO APOSTASY
THE NEW CHRISTIANS WITH CHRISTIANITY WORTH BELIEVING—NO SOLA SCRIPTURA: YES, WOMEN PASTORS AND QUEER CHRISTIANS
ROB BELL, PETER ROLLINS, AND QUEERMERGENT'S ADELE SAKLER
Q&A FOR "GAY AFFIRMING" EMERGING CHURCH PASTOR JAY BAKKER