By Ken Silva pastor-teacher on Jun 29, 2009 in Contemplative Spirituality/Mysticism, Current Issues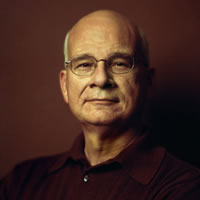 An article over at Surph's Side was brought to my attention where my friend Denise talks about something called The Way of the Monk being taught "at Tim Keller's Redeemer Presbyterian Church" (Online source).
The question I have to ask, as a former prisoner of the religious bondage of apostate Roman Catholicism, is why would a Presbyterian Church even want to expose their flock to the Counter Reformation spirituality of The Way of the Monk, which is the opposite of the Reformed principle of Sola Scriptura:
Do you long for the great theology in your head to be more real to your heart? Come discover age-old methods of contemplative prayer and worship that can help you encounter Christ in a more intimate, experiential way. In this hands-on workshop, you will experience the ancient art of chanting the Psalms (they were meant to be sung!), embark on a practice of authentic Christian meditation, discover how a simple, time-honored tool can help unleash the prayer warrior in you, learn what a typical monastic day is like and how you can make your own, private retreat at a monastery, and much more! (Online source)
This Seeking God: The Way Of The Monk DVD, which we assume formed the basis of what Susan Castillo–who continues "to embrace her 'inner monk'"–teaches in this regard was produced as an:
examination of the strange life of the Benedictine monks at New Mexico's Monastery of Christ in the Desert, presents the traditional chants, seasonal rituals,… (Online source)
If so, Apprising Ministries thinks that the great Church Reformer, and former Roman Catholic monk, Martin Luther knew a bit more about these kinds of ascetic practices than Keller and his teacher Castillo ever will. Luther said:
Idolatry is all manner of seeming holiness and worshipping, let these counterfeit spiritualities shine outwardly as glorious and fair as they may; in a word, all manner of devotion in those that we would serve God without Christ the Mediator, his Word and command. In popedom it was held a work of the greatest sanctity for the monks to sit in their cells and meditate of God, [solitude] and of his wonderful works; to be kindled with zeal, kneeling on their knees, praying, and having their imaginary contemplations of celestial objects, with such supposed devotion, that they wept for joy. In these their conceits, they banished all desires and thoughts of women, and what else is temporal and evanescent. They seemed to meditate only of God, and of his wonderful works.
Yet all these seeming holy actions of devotion, which the wit and wisdom of man holds to be angelical sanctity, are nothing else but works of the flesh. All manner of religion, where people serve God without his Word and command, is simply idolatry, and the more holy and spiritual such a religion seems, the more hurtful and venomous it is; for it leads people away from the faith of Christ, and makes them rely and depend upon their own strength, works, and righteousness. In like manner, all kinds of orders of monks, fasts, prayers, hairy shirts, the austerities of the Capuchins, who in popedome are held to be the most holy of all, are mere works of the flesh; for the monks hold they are holy, and shall be saved, not through Christ, whom they view as a severe and angry judge, but through the rules of their order. (Table Talk AD 1626)
And it's also important to point out that this is not an aberration as Lighthouse Trails Research, who have long been covering corrupt contemplative spirituality, reports in Another Popular Christian Leader , Tim Keller, Takes Church into Contemplative:
Redeemer Presbyterian's Way of the Monk workshop is not an isolated incident at their church. On the website, there are several other indications: an article on meditation written by contemplative advocate and spiritual director Jan Johnson who talks in the article about lectio divina and Ignatius exercises…

And herein lies the problem. As an increasing number of proclaiming Christian leaders and pastors move their followers toward this mystical spirituality… If Tim Keller's church continues to incorporate the way of the mystic, they will, in time, absorb the essence of mysticism if that hasn't already even happened. (Online source)
Perhaps it's finally time for some serious questions to be asked by leaders within the so-called Reformed Camp concerning an increasing infestation of Contemplative Spirituality/Mysticism. Note that this program at Redeemer Presbyterian Church is under some "School of Gospel Foundations," which sounds a lot like the spiritual director talk of the spurious Spiritual Formation ala Living Spiritual Teacher and Quaker mystic Richard Foster and his spiritual twin SBC minister Dallas Willard.
It should be of great concern when we are being told that we need to learn these allegedly "age-old methods" of Contemplative/Centering Prayer from "strange life" apostate (at best) Roman Catholic monks to supposedly "help" us "encounter Christ in a more intimate, experiential way." We need the "prayer rope, a practice of prayer that engages the whole person"; why, to pray the Rosary? And "the Daily Office"; has the Reformed sector of the visible church really forgotten who Ignatius of Loyola, founder of the spiritual Gestapo unit the Jesuits actually was…
See also:
TIM KELLER ENDORSING COUNTER-REFORMATION CONTEMPLATIVE SPIRITUALITY?
RICHARD FOSTER FORMING PROTESTANT SOUTHERN BAPTIST CONVENTION SPIRITUALITY
"INWARD JOURNEY" ESPOUSED BY RICHARD FOSTER IS A FORM OF DIVINATION
SPIRITUAL DISCIPLINES AMIDST SPIRITUAL DECEPTION
"CELEBRATION OF DISCIPLINE" BY RICHARD FOSTER AN ENCYCLOPEDIA OF THEOLOGICAL ERROR