By Ken Silva pastor-teacher on Aug 25, 2008 in Contemplative Spirituality/Mysticism, Features, Richard Foster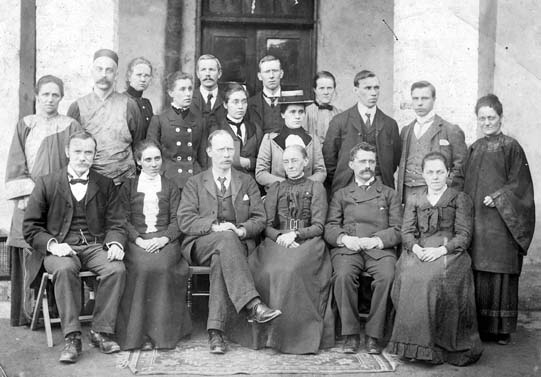 We now continue this examination of the history of the Quakers and their core doctrine of the Inner Light that is allegedly within all of mankind and which supposedly was "revealed" by God to their founder George Fox. In Part One I opened with testimony concerning current Quaker beliefs from author and mystic Dr. Mary Conrow, a third generation member of The Religious Society of Friends (the Quakers). We also got further corroboration through an article by Friend Anne K. Riggs which as of today (5/5/06) is found at the official Friends website Quaker.org.
Shedding Light On Quaker Origins
Dr. Riggs by the way is also co-editor of QUEST: Quaker Ecumenical Seminars in Theology. I then showed that the contemplative spirituality currently taught by Quaker Richard Foster is so consistent with the mysticism of New Age teachers and the meditation of Zen Masters that he is listed (as of 5/5/06) at the Living Spiritual Teachers Project among an odd assortment of heretics and unbelievers.
The New Encyclopedia Britannica brings out that the term "Quaker," according to founder George Fox came to be applied to this group "because we bid [people] tremble at the word of God." In addition however, it is "likely that the name, originally derisive, was also used because many early Friends, like other religious enthusiasts, themselves trembled [i.e. quaked] in their religious meetings and showed other physical manifestations of religious emotion" (9/838). This is confirmed in New Religions: A Guide while Richard Hoskins is teaching about a sect of "healers and 'spiritual' leaders" from the Dominican Republic called "The Ngunzist movement." Hoskins tells us the "Ngunzists are often called trembleurs because of their ecstatic shaking (rather like the origin of the term Quakers) (55,emphasis mine).
Next, from his fine work Christianity Through The Centuries (CTTC) noted Church historian Dr. Earle Cairns tells us that:
The Quakers appeared on the English religious scene during the chaotic period of the Civil War and the Commonwealth. They set aside the doctrines of an organized church and the Bible as the sole and final revelation of God's will in favor of the doctrine of the Inner Light, by which they meant that the Holy Spirit can give immediate and direct knowledge of God apart from the Bible (381, emphasis mine)
The well-respected Handbook Of Denominations In The United States (HOD) from Mead and Hill adds that the Quakers date "from the late 1650's in England" and " the Society of Friends, or Quakers, is an unconventional but esteemed Protestant body." The Quakers are unique because "they affirm the 'Inner Light,' the spiritual nerve center that God has placed in every person." As we saw in Part One as well "classical Friends deny the validity of clergy, liturgy, and sacraments" (140, emphasis mine). HOD then gives us a further historical background:
The Society of Friends began with the vision of George Fox (1624-91), a British seeker after spiritual truth and peace during the turmoil of the English Civil War and its aftermath. After failing to find satisfactory truth and peace in the churches of his time, Fox discovered what he sought in a direct personal relationship with Christ: "When all my hopes in [churches] were gone… I heard a voice which said, 'That is the Inner Voice, or Inner Light, based upon the description of John 1:9: "the true Light, which lighteth every man that cometh into the world. (KJV)" ' " This voice, Fox maintained, is available to all and has nothing to do with the ceremonies, rituals, or creeds over which Christians have fought. Every heart is God's altar and shrine (140,141, emphasis mine).
In World Religions: From Ancient History to the Present we find out further it was in the wake of "the struggle" within various religious sects following the Reformation that:
Quakerism was born. These "seekers," [sound familiar?] as they called themselves, abandoned all traditional Christian outward forms – ministry, creeds, sacraments, liturgy, systems of theology – and waited in silence, meditating on the Bible until they felt the "inner light" of God dawning within them and the Holy Spirit to speak. In their small communities they stressed the comradely life of love and works or charity inspired by the mystical experience of Christ through the Spirit (445, emphasis mine)
The Divine Spark Emerges In The Inner Light
Christian researcher Ray Yungen shares an interesting bit of information about the Quaker Guru of Contemplation Richard Foster with us in A Time of Departing when he asks:
Just how influential has Foster become in Christian circles? For certain, his effect on the evangelical church cannot be overestimated. In a 1993 poll by Christianity Today, the magazine revealed that Foster's book, Prayer: Finding The Heart's True Home, was the number one most popular books with its readers. Astoundingly, this is the same book that well-known New Ager Rosemary Ellen Guiley has on her suggested reading list in the back of her book, The Miracle of Prayer (80).
Guiley is also the author of Harper's Encyclopedia of Mystical & Paranormal Experience (HEMPE) published by HarperSanFrancisco, the company that also happens to publish Foster himself. It should strike us as odd that a "Christian" sect should be found in such a secular publication devoted to spiritualism. And yet Guiley tells us in HEMPE that Quaker theology "stresses a personal, almost mystical knowledge of God and the workings of the Lord's 'inner light' within all people." And Fox himself taught:
faith is based solely on firsthand knowledge of Christ as a living, personal reality, not on logic, reasoning, historical reporting, or even Scripture. This empirical proof came to be called the Quaker Way: the idea that worshippers need not consult preachers or the Bible to receive knowledge of the Holy Spirit–the so-called "inner light of Christ" present in every human heart (556, emphasis mine).
This idea in Quaker theology that every man has this alleged "Inner Light" is further corroborated in GREAT RELIGIONS of the World which tells us that Fox "insisted that the 'light of Christ' glimmered in all men" (375, emphasis mine) We'll be coming back to this "inner light" that is supposed to glimmer "in every human heart," but first, in his classic two volume set A History Of Christianity (AHOC) the great historian Kenneth Scott Latourette adds a bit more background information about the person through whom the Quakers originated:
Their founder was George Fox (1624-1691). Of humble birth, from boyhood he had heard Puritan preaching and had acquired an intimate familiarity with the text of the English Bible… For four years he suffered severe spiritual depression induced by the spectacle of human suffering,…and by the doctrine of predestination which he heard expounded from Puritan pulpits. By temperament a mystic, he was eager for direct and unhindered access to God… Eventually (1647) the light broke. He came to feel Christ could speak to "his condition,"… He believed that God is love and truth and that it is possible for all men so to open their lives to Him… [Fox] would follow and have others follow the Inner Light" (Vol. II, p. 822, emphasis mine)
The True Light Of Holy Scripture
The true light that gives light to every man was coming into the world. He was in the world, and though the world was made through him, the world did not recognize him. (John 1:9-10)
As we get set to shed additional light on the unique Quaker doctrine of the "Inner Light" we need to remember that George Fox was a seeker and a mystic by nature, well versed in the Scriptures, and a man who chose to rebel against solid Biblical preaching. This is actually not too unlike what we see leaders within the Emergent Church doing today. Fox apparently didn't like the fact that God instituted an authority structure within the local church so he decided to seek the Lord on his own terms. And sure enough Fox finally hears what he wanted to hear all along as he tells us "I heard a voice which said, 'That is the Inner Voice, or Inner Light, based upon the description of John 1:9: "the true Light, which lighteth every man that cometh into the world. (KJV)" (HOD, 141). Not only that but this seducing spirit allows for Fox's defiance of authority as well as he is told that this Inner Light "is available to all and has nothing to do with the ceremonies" of the local church. Then in the mystic tradition of classic Gnosticism Fox hears that all mankind has a spark of divinity because every human being "is God's altar and shrine" (141).
This above information is extremely important to understand regarding the spiritual excesses of the Religious Society of Friends (the Quakers). Now you should be able to see an aberrant view of mysticism is already rooted in the base theology of the Quakers. Their founder George Fox, who was himself prone to mysticism, wished for a "personal" approach "to God" that ended up being "apart from the Bible." As such Fox began with his theology already turned backward by believing that it is man who seeks after God and as a result the Scriptures were forced to take a back seat to his own way of approaching the Lord. We need to carefully consider the above information. Fox is seeking a "direct" and "mystical experience" with God. Admirable yes, but it is the LORD God Almighty–the glorious and transcendent Creator of the universe–Who set the prescribed means of interacting with us through conscious prayer and His Words in Holy Scripture.
I will show you more about this "Inner Light" below, but notice that Fox was "eager" long enough while waiting "in silence" until "the light broke." And he finally received his mystic delusion that "it is possible for all men" to "open their lives" to God. As I said, the "experience" of George Fox shoved the Truth of the Bible into a secondary place in favor of this mystical view that it is possible that "all men" are capable of opening themselves up to God. Clearly this would appear to be a reaction on his part to the strong Biblical "Puritan preaching" which assisted him in acquiring "an intimate familiarity with the text of the Bible." For you see Fox has absolutely no excuse for missing this critical Truth from God's Word:
The fool says in his heart, "There is no God." They are corrupt, their deeds are vile; there is no one who does good. The LORD looks down from heaven on the sons of men to see if there are any who understand, any who seek God. All have turned aside, they have together become corrupt; there is no one who does good, not even one.(Psalm 14:1-3)
And it's not like this is some obscure passage the Puritans latched onto but is open to various interpretations, because it appears again in Psalm 53 below almost verbatim:
The fool says in his heart, "There is no God." They are corrupt, and their ways are vile; there is no one who does good. God looks down from heaven on the sons of men to see if there are any who understand, any who seek God. Everyone has turned away, they have together become corrupt; there is no one who does good, not even one (vv.1-3).
We aren't able to escape this absolute Truth concerning the actual nature of mankind in the New Testament either. O the sappy sentimentality of new evangelicalism just loves to focus on the goodness of God and to tell us that He sent Jesus to meet our every need and to solve all of our problems. However, as I will continue to say, Christ Jesus of Nazareth is the Creator–the dreadful and awful–holy and majestic LORD God Almighty standing upon His planet. And concerning the fallen nature of humankind the Master unequivocally tells his Own disciples – "If you, then, though you are evil, know how to give good gifts to your children, how much more will your Father in heaven give good gifts to those who ask him!" (Matthew 7:11)
And then Jesus even clarified what He meant by "though you are evil" as He says – "For from within, out of men's hearts, come evil thoughts, sexual immorality, theft, murder, adultery, greed, malice, deceit, lewdness, envy, slander, arrogance and folly" (Mark 7:21-23). Why you'd almost have to think our Creator is trying to get a point across to self-centered and arrogant mankind when later the inspired Apostle Paul is led by God the Holy Spirit to pick up those very same passages in the Psalms mentioned earlier:
As it is written: "There is no one righteous, not even one; there is no one who understands, no one who seeks God. All have turned away, they have together become worthless; there is no one who does good, not even one" (Romans 3:10-12)
You won't hear all of this preached by e.g. by men like Joel Osteen in The Ecumenical Church of Deceit, but the bottom line in all this simply couldn't be any clearer than Ecclesiastes 7:20 – There is not a righteous man on earth who does what is right and never sins. Ah, that is except – Jesus Christ, the Righteous One (1 John 2:1). So tragically, because George Fox denied this clear teaching from God's Word, two major and spiritually fatal flaws emerged in his theology. Out went the Pastoral Epistles for God's prescribed method of spiritual leadership within His local churches; and instead of objectively judging all experience by Holy Scripture, "the Quaker way" became proper understanding of the Bible would be determined by subjective mystical experience in "the Inner Light."
And it is this very same mortal theological wound of interpreting the text of the Bible by the spiritual experiences a given person may have that is also central to the postmodern approach of the Emergent Church, of which Richard Foster is unquestionably "a key mentor." I've already pointed out that Foster considers mystic Teresa of Avila as one of "the great writers of the devotional life." You will come to see that even this is also consistent with Quaker theology and interestingly enough, on the page prior to the coverage of the Quakers by Dr. Cairns in CTTC is a short piece about a mystic movement within "the Roman Catholic Church during the seventeenth century" that would come to be known as "Quietism."
The Inner Light Reveals The Global Family
I now draw your attention to the fact that "the Inner Light" just happened to be a core teaching of this Quietism. Dr. Cairns informs us that this theological view within the Church of Rome:
emphasized an immediate intuitional approach to God by the passive soul opening itself to the influence of the inner light. It was a reaction to the emphasis on the rationalization of dogma. [Sound familiar?] Forerunners of the Quietists were Ignatius Loyola; the godly Charles Borromeo (1538-84), cardinal and archbishop of Milan; Teresa of Avila (1515-82); and Francis de Sales (1567-1622) of France… These mystics of the Counter-Reformation were succeeded by the Quietists of the seventeenth century. (ibid., 380, emphasis mine)
You can see that Teresa of Avila was prominent among those who influenced what would itself become a "quiet" reformation within the Roman Catholic Church and would end up bringing it further and further away from Biblical doctrine in favor of this mystic superstition. George Fox and the Quakers would somewhat parallel this quiet decent into the mystical silence of demonic deception. It's a trap as old as the Garden of Eden where the Devil promises good will come to men who follow him in opposition to what God has said in the Bible. There have been mystical approaches to God virtually since the time of the Fall and the LORD God Almighty has already told us that rather than "emptying" our minds of all thought we are instead to – "Love the Lord your God with all your heart and with all your soul and with all your mind and with all your strength" (Mark 12:30).
In AHOC Latourette also supplies another key piece of information in understanding the deadly flaw which has emerged from the theology of Fox when he brings out that "Fox and other Quakers insisted that every man who comes into the world is illuminated by an inner light which is Christ" (Ibid., p. 981, emphasis mine). Men and women, here we glean some critical insight into why we are seeing the reemergence of interest in Contemplative/Centering Prayer (meditation) within new evangelicalism. This above view by "Fox and other Quakers" is also indicative of the inevitable result of the practice of this "Christian" mysticism as well. Can you see it: If this alleged Inner Light is already within every man then we don't have to risk persecution as we stand for the exclusivity of the Gospel of Jesus Christ. Because now we will have opened the door to a universalism which negates any real need for anyone to have to be "born again."
And here we have uncovered the reason why so many professing Christians today can believe that all religions should be friends now and seek our common ground as we work together to usher in "the kingdom" of God's Global Peace. Take an honest look at the warped and toxic theology of men like Richard Foster, Rob Bell, Brian McLaren, Alan Jones, Steve Chalke and even the Purpose Driven Pope Rick Warren–all men involved to one degree or another in the practice of contemplative spirituality. You see no bold stance on their part that the only way any human being anywhere upon God's planet can ever be saved from an eternity of conscious torment in a literal place our Creator called Hell is personal faith in Jesus Christ of Nazareth and His vicarious penal substitutionary atonement on the Cross. In fact, you will see in my article "Evangelicals" Attacking The Atonement it is actually quite the contrary.