By Ken Silva pastor-teacher on Jun 20, 2014 in AM Missives, Current Issues, Features, T.D. Jakes, Word Faith
As I continue to battle through lingering health issues here at the online apologetics and discernment work Apprising Ministries, I'm doing my best to carry on and document for you the sheer rapidity with which doctrinal distinctives are now being obliterated.
You may recall I explained to you that James MacDonald Was A Bit Late In Mainstreaming T.D. Jakes. For you see, e.g. modalist and Word Faith mogul "Bishop" T.D. Jakes has already been preaching for Southern Baptist pastor Ed Young, Jr for nearly ten years now.
Not a peep out of milquetoast SBC leadership. ((You can see that back in 2007 I made then SBC president aware of Jakes preaching in an SBC church in Dr. Frank Page Responds Concerning "Dr. Ed Young To Share The Pulpit With T.D. Jakes".)) Jakes also appeared along with Ed Young, Jr ((https://www.youtube.com/watch?v=lZLxpkZtMtc, accessed 6/20/14.)) and Andy Stanley ((https://www.youtube.com/watch?v=lZLxpkZtMtc, accessed 6/20/14.)) at the Hillsong Conference 2010, ((https://www.facebook.com/events/115756188451785/, accessed 6/20/14.))  put on by the heretical Word Faith outfit Hillsong Church (HC), Australia. As HC pastrix Christine Caine informs us:

(source)
Jakes was also a featured speaker for Bill Hybels and Willow Creek Church in the summer of 2010 as well. Despite his denial of the Trinity, i.e. the very nature of God, there right alongside Hybels, Christine Caine, and some others, T. D. Jakes spoke at The Global Leadership Summit 2010. ((http://www.willowcreek.com/ProdInfo.asp?invtid=PR34744, accessed 6/20/14.))
And then there was Jakes speaking the mainstream evangelical The Tension Is Good Catalyst Conference Atlanta back on October 6-8 of 2010 ((http://www.rochestermedia.com/catalyst-2010-the-tension-is-good/, accessed 6/20/14.)) along with Andy Stanley once again, Francis Chan, and SBC-sponsored quasi-elder Beth Moore:

Notice how the same names keep cropping up like interlocking concentric circles of syncretism. If you think this is all by coincidence then I'd avoid anyone claiming to sell a large bridge in England. As far as pastrix Christine Caine, she is tip-of-the-spear for the advance of Word faith mythology of HC's Brian Houston.
Yet recently we saw Word Faith Pastrix Fills In For Beth Moore during her Wednesday's with Beth on Life Today TV of leading charismaniac ecumenicist James Robison. ((For example, see this lunacy in the Lord's Name: James Robison To Pope Francis "In Christ We Are Brothers".)) Caine's become quite the evangelical darling because we've also witnessed John Piper Preaching With Hillsong Pastrix Christine Caine At Pssion 2014.
Evangelical Ecumenical Magisterium ((I explained e.g. in Steven Furtick Debuts on Trinity Broadcasting Network amid Financial Concerns that the EEM comprised of notable multi-site megachurch pastors seems to have sprung from the Elephant Room conferences of James MacDonald and his co-host  Mark Driscoll.)) leader James MacDonald would have us believe that T.D. Jakes Has Repented Of Word Faith Heresy. The lineup tonight for tonight's Praise the Lord (PtL) program on Trinity Broadcasting Network (TBN), hosted by T.D. Jakes, says otherwise.
As I explained the other day in Tullian Tchividjian On TBN's Praise The Lord Tonight, PtL is the main vehicle used by TBN for fleecing the gullible within the Christian flock: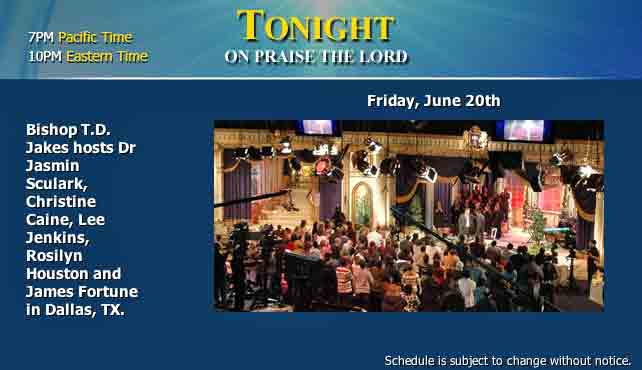 I'll repeat again what I said in Franklin Graham Hosting TBN's Praise the Lord—Christians faithful to Jesus send a better message by having nothing to do with TBN. As it is written:
I appeal to you, brothers, to watch out for those who cause divisions and create obstacles contrary to the doctrine that you have been taught; avoid them. 

For such persons do not serve our Lord Christ, but their own appetites, and by smooth talk and flattery they deceive the hearts of the naive. (Romans 16:17-18)
Further reading