By Ken Silva pastor-teacher on Dec 12, 2012 in AM Missives, Current Issues, Features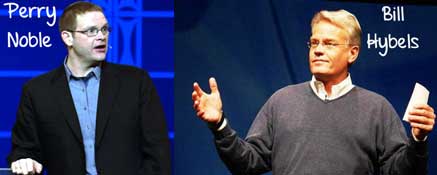 Apprising Ministries continues showing you that. sadly, syncretism within mainstream evangelicalism is even now slithering ever closer to your own local church.
In pieces like Ed Young, Jr. With A Tearful Tribute: The Vision Of "Pastors" Ed And Lisa I've talked about an emerging ecumenical magisterium that appears to be forming.
This particular group of Seeker Driven and New Calvinist prophet-leaders seem to have simply anointed themselves as the new spokesmen for apostatizing evangelicalism.
One of them is the always obstreperous Perry Noble with his Newspring Leadership Conference where the majority of these multi-site megachurch prophet-leaders hold court.
With this in mind, yesterday Noble tweeted excitedly:

(source)
Then later today Noble would gush:

(source)
Here's one more example of how deeply Generals of the bankrupt Church Growth Movement (CGM) army like Hybels and Rick Warren have now penetrated into the mainstream Christian community.
In closing this, for now, I point you to the article Faulty Premises of the Church Growth Movement: Rick Warren, Robert Schuller, Donald McGavran, and C. Peter Wagner Mislead the Church
Apprising Ministries special correspondent Bob DeWaay begins with a key text of Holy Scripture:
They are from the world; therefore they speak from the world, and the world listens to them. We are from God. Whoever knows God listens to us; whoever is not from God does not listen to us. By this we know the Spirit of truth and the spirit of error. (1 John 4:5-6)
Next he quotes Rick Warren on the faulty heart of the CGM Seeker Driven message:
"It is my deep conviction that anybody can be won to Christ if you discover the key to his or her heart. . . . It may take some time to identify it. But the most likely place to start is with the person's felt needs." ((Rick Warren, The Purpose Driven Church, (Grand Rapids: Zondervan, 1995) 219.))
Then Bob DeWaay is dead-on-target when he explains:
If we compare what the Apostle John said with what a famous Church Growth ((However Rick Warren now says that he does not like the term 'Chruch Growth':HTTP://WWW.CHRISTIANITYTODAY.COM/BCL/AREAS/LEADERSHIP/ARTICLES/062905.HTML He claims he quit using the term in 1986, but the term "Growth" is on the cover of his book and "church growth" is found often in The Purpose Driven Church, see for example pages 48 and 49. Many of the endorsements included in the book tout it is a "Chruch Growth" book.)) advocate says, we encounter a problem. John says that the world will not listen to a true, unsullied Christian message. Rick Warren says that anybody can be won to Christ if we discover a message that will interest them through promising to meet their felt needs.

These concepts are contradictory. The Biblical idea is that we must speak God's unchanging message of the gospel whether the world hates us or not: "If you were of the world, the world would love its own; but because you are not of the world, but I chose you out of the world, therefore the world hates you" (John 15:19).

The Church Growth idea is that we must study man (using the latest sociological, psychological, and anthropological insights) to determine how to create a church that will grow and a message that will be popular through appealing to a target audience. Someone is wrong here and I do not think it is the inspired Apostle John…

[K]ey leaders in the Church Growth Movement includ[e] Bill Hybels and Rick Warren…and [t]he movement has spawned some highly visible "successes" such as Willow Creek Church and Saddleback Church…

The bad theology that underlies Church Growth thinking is man-centered. It does not take serious the depravity of the fallen human race. It apparently assumes that people have the power and inclination to become Christian without a prior supernatural work of grace. ((Some would deny this theologically, but nevertheless proceed as if it were true. If they really believed in a need for a prior work of grace, then they would provide the means for that work of grace. Studying people's felt needs in order to create a church service that promises to meet those needs is appealing to human wants and desires, not showing them their hopelessly lost condition and need for a work of grace.)) This being the case, its practices try to entice people with programs to meet needs, cajole them with human wisdom, or attract them with supernatural signs and wonders. What is offered must appeal to the natural man. But Paul rejects this type of reasoning all together:

Now we have received, not the spirit of the world, but the Spirit who is from God, that we might know the things freely given to us by God, which things we also speak, not in words taught by human wisdom, but in those taught by the Spirit, combining spiritual thoughts with spiritual words. But a natural man does not accept the things of the Spirit of God; for they are foolishness to him, and he cannot understand them, because they are spiritually appraised (1Corinthians 2:12-14).

The Corinthian world of traveling sophists had a very high regard for human wisdom. Paul's message of a crucified Jewish Messiah was foolishness to them. Nevertheless, Paul refused to give them what they wanted (human wisdom). On the contrary, here is ONLY what Paul would give them: "For I determined to know nothing among you except Jesus Christ, and Him crucified" (1Corinthians 2:2). He refused to let their appetite for human wisdom change his message of Christ crucified.

Since Paul approached his ministry in this way, he was dependant on the work of the Holy Spirit, not the wisdom of man. The work of the Holy Spirit was to change hostile sinners into loving worshippers through the gospel:

For indeed Jews ask for signs, and Greeks search for wisdom; but we preach Christ crucified, to Jews a stumbling block, and to Gentiles foolishness, but to those who are the called, both Jews and Greeks, Christ the power of God and the wisdom of God. (1Corinthians 1:22-24)

Ironically, in the Church Growth Movement C. Peter Wagner offers signs and Rick Warren offers wisdom, but who is going to publicly proclaim the gospel? The Holy Spirit works powerfully through the Word that He inspired, not through questionable signs and human wisdom.

In my opinion, 1Corinthians chapters 1 and 2 in themselves should be all any Bible believing Christian should need to see the fallacy of the "felt needs" premise of the Church Growth Movement. (source)
Further reading