By Ken Silva pastor-teacher on Nov 27, 2012 in AM Missives, Current Issues, Features, Leonard Sweet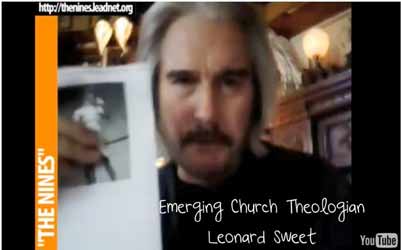 As the neoliberal cult operating within the Emerging Church was hatched, Leonard Sweet was without question a leading EC theologian. Today Sweet tweeted the following man-centered rhetoric:

(source)
So, I felt led of the Lord to set him straight:

(source)
You see, Leonard Sweet has been quite corrupted by the man-pleasing mythology of Leadership Network, whom he's been deeply involved with for decades. LN teaches a fable known as "pre-conversion discipleship."
For example, we consider the following from Emergent Church missiologist Alan Hirsch, who worked closely with Leonard Sweet as the EC was forming:
we need to reframe evangelism within the context of discipleship…even "the Twelve" (and "the Seventy") were all what we would call "pre-conversion disciples." ((Alan Hirsch, Deborah Hirsch, Untamed: Reactivating a Missional Form of Discipleship [Grand Rapids: Baker Books, 2010], 150.))
That's from Untamed: Reactivating a Missional Form of Discipleship where the Purpose Driven Pope Rick Warren himself gushed in his foreword:

No, sorry about that Rick Warren; they clearly teach a mythology that someone who is still in the flesh can actually be discipled. However, the Twelve and the Seventy were specifically chosen by Jesus Christ and interacted directly with Him; thus they were converted.
Even though Jesus hadn't yet died for their sins, and they were still to receive the Holy Spirit to indwell them, the fact is, these had already been converted to Christ. Jesus knew whom the Father had given Him so He could already begin to disciple these people.
However, you and I do not have this knowledge so we can't just arbitrarily disciple people prior to their responding to the Gospel of repentance and forgiveness of sins in Jesus' Name. As it is written:
Those who are in the flesh cannot please God. You, however, are not in the flesh but in the Spirit, if in fact the Spirit of God dwells in you.

Anyone who does not have the Spirit of Christ does not belong to him. But if Christ is in you, although the body is dead because of sin, the Spirit is life because of righteousness.

If the Spirit of him who raised Jesus from the dead dwells in you, he who raised Christ Jesus from the dead will also give life to your mortal bodies through his Spirit who dwells in you. 
(Romans 8:8-11)
Further reading