By Ken Silva pastor-teacher on Sep 9, 2012 in AM Missives, Current Issues, Features, Steven Furtick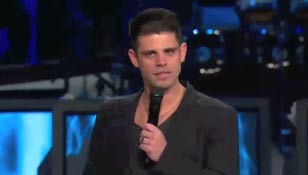 Apprising Ministries continues our coverage of the rise of Seeker Driven evangelical prophet-leader Steven Furtick with his hybrid attractional/Word Faith message I first called Furtickism in Steven Furtick Bringin' On Word Faith And The Pastrixes. No one else really preaches this so-called "audacious faith"…yet, that is.
There are those who simply dismiss this information believing that Furtick is out of touch with the genuine Christian faith. That he is; however, Steven Furtick is a mainstay in the emerging ecumenical magisterium growing up around the Elephant Room. Here's a couple of telling tweets concerning Furtick and its co-hosts:
August 10, 2011


(source)

May 27, 2012


(source)
Steven Furtick already has enough clout to land Word Faith mogul T.D. Jakes, one of the biggest cult of celebrity preachers in all of Christendom, to preach at his Code Orange Revival, which opened up this year. Here's his nauseating introduction: Steven Furtick: T.D. Jakes Is My Favorite Preacher In The World.
Furtick also preached for Church Growth guru Bill Hybels at his annual Global Leadership Summit this past year:

(source)
Then there's Church Growth guru Rick Warren who tweeted back on September 3rd when Furtick's book Greater dropped:

(source)
You should be able to see that Steven Furtick has the support of many movers and shakers within the mainstream evangelical community. You might recall a couple of months ago I warned you that Joel Osteen Moving One Step Closer To Mainstream Evangelicalism. Here's the lineup for the annual Hillsong Church conference in 2013.
Hillsong is a notorious Word Faith church and yet we see speakers well known within the Seeker Driven camp with Joel Osteen. In fact, Craig Groeschel is considered by Furtick to be his pastor:

(source)
Now consider in Preaching At Lakewood Church Dream Come True For Steven Furtick I told you that back on August 29th Steven Furtick got a chance to live his dream to preach at Osteen's Lakewood Church. Remember now, I've already shown you clearly Joel Osteen Has Influenced Steven Furtick Longer Than You May Know.
Steven Furtick has quite literally said he believes that Joel Osteen Is A Great Man Of God. So, in closing this, for now, here's the exclusive video of Steven Furtick at Lakewood Church with Joel Osteen himself in attendance:
[mejsvideo src="https://www.apprising.org/wp-content/uploads/2012/09/FurtickatLakewood.mov" width=640 height=360]
Further reading