By Ken Silva pastor-teacher on Feb 8, 2012 in AM Missives, Current Issues, Features, T.D. Jakes, Word Faith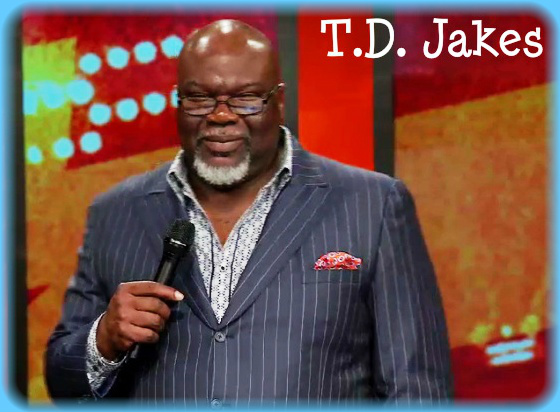 Apprising Ministries has been documenting the sad slide into apostasy of contemporary evangelicalism for some time now.
Circa 1997 the sinfully ecumenical neo-liberal cult within the Emerging Church aka the Emergent Church began spreading the cancer of Contemplative Spirituality/Mysticism into the mainstream.
One of the results is a growing syncretism and a sappy sentimentality passing as the genuine robust Christian faith. An effete faith advanced by women in men's pants.
Frankly, I think it's a delusion these men are receiving where they become convinced it's God's will for us to set aside doctrinal differences in order to bring the visible church together. As I see it, that's the underlying philosophy of the Elephant Room 2 that detonated a couple of weeks ago.
By now you're likely aware that ER2 has now mainstreamed T.D. Jakes, who essentially said in ER2 that he was a trinitarian who chooses to express it in the language of a modalist. Then it's even grown worse; seems if we don't accept Jakes as a Christian brother, well, apparently it's because we're racist.
You can find more detail and the link to the video in James MacDonald, Elephant Room 2, And The Race Card? One of the things being missed as ER2 shockwaves hit The Gospel Coalition, Harvest Bible Chapel, and Acts 29 Network is the horrible baggage T.D. Jakes now arrives with within evangelicalism.
Here I'll show you part of it. You may remember a while back I told you Megachurch Pastors Joel Osteen And T.D. Jakes Unite And Why You Should Care. There I explained how this came about when:
Jakes called Osteen, hoping to get Lakewood to host a men's conference. A quick tour turned into an all-day session… Their new bond led Osteen to invite Jakes to preach.
(Online source)
In addition, Jakes' recent Woman Thou Art Loosed 2011 conference, featuring pastrixes Paula White, Cindy Trimm, and Sheryl Brady, was hosted by the Lakewood Church of fellow Word Faith prosperity preacher Joel Osteen. All of these people are well known within Word Faith circles and regulars on TBN.
As I close this out, for now, AM special correspondent Erin Benziger tells us in her Cleaning Up After the Elephants? MacDonald Takes to the Airwaves about a recent offensive the ER2 curator has launched. Benziger reports on an interesting twist now concerning T.D. Jakes and James MacDonald.
She brings out that while MacDonald was on Chris Fabry Live:
Fabry brought up the oft-neglected (by MacDonald, anyway) elephant of T.D. Jakes' prosperity gospel. In this part of the discussion, James MacDonald indicated that a private conversation had taken place (among whom, we do not know, though it is obvious that it was at least allegedly between MacDonald and Jakes).

During this conversation, says MacDonald, T.D. Jakes expressed that he would "not currently accept the designation of prosperity or Word of Faith as an accurate description of what he believes. […] As of two weeks ago [Jakes] would not accept these terms in a private conversation as an accurate description of what he believes." (Online source) 
Here's what too many are missing: None of the prosperity preachers will accept that description either. I talked about this nearly seven years ago in Joel Osteen: Once Upon A Time… where I pointed out that once upon a time in the world Osteen lives in, it seems there was a man who just couldn't understand:
Why anyone would call me a prosperity preacher?
So, I put in some of his teaching on that topic, and told him we call you that because that's what you are. You know, if it looks like a duck, swims like a duck, and quacks like a duck, then it probably is a duck. If you really want the truth, note the two preachers chosen in the MSNBC news clip below:
I know I certainly had nothing to do with Chuck Scarborough picking Jakes and Osteen for his Jesus Is The Product piece. No one forced the two to align as I showed you above. And take a look at 2012 International Pastors & Leadership Conference to be put on by T.D. Jakes this coming May 3-5:
The featured speaker is Jakes' new friend and fellow Word Faith prosperity preacher Joel Osteen:
I don't know about you, but this sure doesn't look like any repentance of WF by T.D. Jakes to me…
See also:
ELEPHANT IN THE ROOM: T.D. JAKES AND PAULA WHITE
FELLOW EVANGELEPHANTS MARK DRISCOLL AND JAMES MACDONALD REBUKE T.D. JAKES ON THE PROSPERITY GOSPEL