By Ken Silva pastor-teacher on Jul 29, 2011 in Current Issues, Features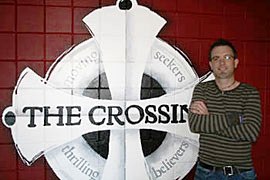 UPDATE: ELK RIVER DISCUSSES ERIC DYKSTRA, CROSSING CHURCH
CROSSING CHURCH OF ERIC DYKSTRA DRAWS CONTROVERSY
As Apprising Ministries continues documenting the falling away of the evangelical community an organization called The Crossing Church (TCC) of Elk River, MN lead by pastor Eric Dykstra and his pastrix wife Kelly has come up on the radar.
The Dykstra's TCC is firmly in the Purpose Driven/Seeker Driven sector and therefore is indicative of the fruit produced by that paradigm for ministry.
For more background I point you to the Our Crossing Story blog of Jeremy and Tracey Rogahn. It turns out the Rogahns "attended The Crossing from Jan. 2009 to Aug. 2010"; and as a matter of fact they were even "Small Group leaders and also were leaders of the First Impressions Team.  (Greeters and ushers)."
Their eyewitness testimony is really quite disturbing as to what goes on with TCC and its male pastor Eric Dykstra. Concerning the leadership of TCC and how the Rogahns became involved with it we're told:
In July 2009, my wife and I were in counsel with "Pastor" Bruce Rauma.  We were going through a lot of stressful personal things, and I was still grieving my Mother's death that had happened in May of 2009.  Bruce called a meeting with us to meet him at the Church and told us that he thought we should become Small Group leaders.

I explained to Bruce that we were not ready to shepherd people, as we were broken ourselves.  He said "no" that we were ready, and that running a group would help us with our own problems.  So we became Small Group leaders.  There was no training, no interview of our backgrounds, nothing.  Then we were recruited to by "Pastor" Chris to leave the Elk River Campus and plant the Zimmerman Campus.

(Chris himself has no theology background, he was a buddy of Eric Dykstra, and so Eric said to him that he should be a Pastor.)  He told us that he "heard" that we were great people, and that he wanted us to run the First Impression Team.  He had us sign a 1 year covenant with God to serve at Zimmerman and tithe there.

(Which he did not fulfill himself, he promoted himself after a few months of being there).  Again, there was no sit down talk about our beliefs, our backgrounds, not even a question if we were even Christians.  That is how leadership is put into place there.  The only Pastor there with a background in Theology is Eric. (Online source)
Quite obviously, this is certainly not the way teachers should be selected. Jeremy would be right, during the grieving process—and especially without training—it definitely isn't the time to be teaching.
And not just for those being taught, but for the Rogahns as well, because they'd have been judged as teachers:
Not many of you should become teachers, my brothers, for you know that we who teach will be judged with greater strictness. (James 3:1)
Jeremy Roghan now continues by testifying that even non-believers were allowed to be pastors at TCC:
There was a young man named Jeremy who was on our FIT team.  He was a seeker who started going to The Crossing.  One week he took me aside and told me that he was planning on moving to Florida and did not think that he "buys" into this Jesus thing.

The following week, he was running around telling everyone that he was now going to become the next "campus pastor".  I asked my leader what was going on, and how that it Biblical, he said that Eric thinks that Jeremy H. needs to be challenged to push him along in faith.
(Online source)
Before you're tempted to write this off, consider that the PD/SS sector believes in what they call pre-conversion discipleship; yes, you read that right. Consider the following from emerging missiologist Alan Hirsch:
we need to reframe evangelism within the context of discipleship…even "the Twelve" (and "the Seventy") were all what we would call "pre-conversion disciples." [1]
That's from Untamed: Reactivating a Missional Form of Discipleship where the Purpose Driven Pope Rick Warren himself gushed in his foreword:

So what Jeremy Rogahn has told us is well within the realm of credibility. In closing this, for now, he informs us of the following concerning TCC lead pastor Erik Dykstra, which begins with the "mission" God gives to the PD/SD pastor.
It's the practice in that camp for the pastor to get direct revelation, supposed to be from God, as to specifically what He wants that pastor to use his particular church to accomplish. Surprise, it's to grow a megachurch.
Once the pastor allegedly receives his "vision," aka mission, he is to begin "casting a spell vision" before the rest of the church. Rogahn then explains that after Dykstra received his delusion he:
started having leadership meeting's called COL meetings.  Eric would get up on stage and repeat the "mission" over and over.  He would then tell us that if our teams were not growing, that we "s**ked" as leaders.  These types of meeting's were happening over and over…

Eric had planned a trip to go and be mentored by Bil Cornelius.  Eric went, and then an email came and said that when Eric gets back there was to be a Small Group Leadership meeting.  The meeting started and Eric said there is going to be a lot of changes being made.

He told us that our Small Groups had to be all about his talks.  There would be no more groups just studying the Bible, it was about his talk or you did not have a Small Group anymore.  He then said what make my skill crawl.  "You will all become mini-Eric's" as he put his hand on Rich Carlson and my shoulders…

Then comes the Wed. night COL meeting.  On stage Eric had a big board with a scale of 1-10 on in.  He told us that our ministry teams would be getting judged each week from a scale of 1-10.  If your team got scored a lower score in consecutive weeks, you would be "fired" as the leader.

He said that if we were not "excellent" that people go to hell… He said that if the band performs at a 3 level and he comes out and gives his "usual" 10, that people will go to hell.  The next COL meeting we got an email that we could bring our "most valuable volunteer" the one person that we could not do ministry without…

In that meeting we also found out that "Pastor" Chris had been promoted to executive pastor at The Crossing.  "Pastor" Chris was now on stage with a large presentation that looked like a pyramid.  Teaching us how we could "self promote" ourselves to the top of the Church like he did…

In another COL meeting Eric Dykstra encouraged us to "fire" volunteers.  He said to have a "healthy" team, you had to kick people out every now and then.  (He made a motion like he was punting a football, and then waved bye bye)… We were forced to Fast and if you didn't you were sinning because you were not being submissive to him…

Eric at another COL meeting was trying to run the leadership meeting and a Cellar class at the same time.  He decided to just bring the Cellar class to the leadership meeting.  He then asked anyone who ran a Small Group to stand up.  He then told the group that "these are the Pastors of the Church, you are to submit to them.  I am not your Pastor, these people are.

I do not know even half of you in here, and I do not care to.   If someone dies in your family and you come to me for sympathy, I am going to ask you who you're Small Group leader is.  If you say you don't have one, then s**ks to be you!!!  You have been warned!" …

We were told that the [Crossing] band plays "worldly" songs that are "off the hook" during offering so that people would put more money in offering for the performance… We received an email stating that EVERY volunteer needed to have an apprentice by Aug. 14th 2010.  If Eric walks up to you and asks who your apprentice is, and you say you did not have
one, he was going to fire you.

I was also told to fire a 9th grade girl who came EVERY week and served her heart out, because she was not loud enough, and told to fire a guy named Kyle because he did not look the part.  I was told to fire a woman named Rita because she was older and not loud enough.  We refused to fire ANYONE who gave their time to serve Jesus… (Online source)
As one who has studied this PD/SD camp closely I can tell you this type of story is quite common. You see, this group of Druckerites essentially approaches church leadership using the CEO model; which you'd find in the secular corporations they worship admire.
Finally, the Roghans tell us they'd had enough and:
We had planned on stepping down from leadership due to the fact that we did not believe in "firing volunteers".  That Sunday we did not go to Church.  The following week we decided that we were going to step down.  We called a meeting with our team…

Everyone was quoting the Eric had this "vision" and I had no idea what they were talking about. (I love my Church talk).  We stepped down with tears in our eyes, and "Pastor" Jason Keech said to me, "What, don't you have the b**ls to fire people!?" …

We decided that we were not going to come back to The Crossing.  The following week we went back to Zimmerman to say goodbye to the people we served with and thank them for all their time they put in.  We were saying goodbye to The Crossing, not our friends.

When we got there, we found out very quickly that we were not wanted there.  I was told that a person does not step down from leadership at Eric Dykstra's Church… We found a Biblically grounded Church and are healing, my worry is for the people who never knew Jesus, and this is their first experience at a Church.

The Crossing Code #7 "WE NEED YOUR SEAT.  We will not cater to personal preferences in our mission to reach the city.
We are more concerned with the people we are trying to reach THAN THE PEOPLE WE ARE TRYING TO KEEP.  WE WANT OUR BACK DOOR WORKING PROPERLY."

So what does Eric do with the people after they commit themselves to his teachings, he tells them to get out, he is not concerned with keeping them there.  So they leave with no Biblical teaching, just what Eric has told them.  Is this what Jesus had in mind for his Church???

One last comment that Eric said in a talk he was giving, "People ask me, was Jesus married to Mary Magdalene?  I say, who cares! I hope he was, at least he got l**d!" (

Online source

)
Let's be in prayer concerning this sad situation and may God continue bringing healing to the Roghan family.
________________________________________________________________________________
End Notes:
Back to note 1 — Alan Hirsch, Deborah Hirsch, Untamed: Reactivating a Missional Form of Discipleship [Grand Rapids: Baker Books, 2010], 150.
[2] Ibid., 9.
See also:
MAN-CENTERED METHODS OF RICK WARREN ALA ROBERT SCHULLER
RICK WARREN BRINGS LOVE ON RECORD
PERRY NOBLE SAYS YOU'RE A JACKASS
CHARISMATIC QUASI-PROSPERITY PREACHER JUDAH SMITH
STEVEN FURTICK CALLS JOEL OSTEEN GREAT MAN OF GOD
WORD FAITH HERETICS LIKE CREFLO DOLLAR DRAW NEARER TO EVANGELICAL ACCEPTANCE