By Ken Silva pastor-teacher on May 31, 2011 in Current Issues, Features, Rick Warren, Word Faith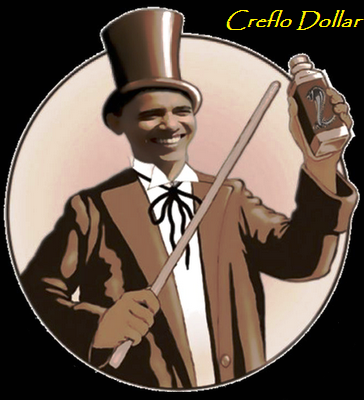 And the Lord said to me: "The prophets are prophesying lies in my name. I did not send them, nor did I command them or speak to them. They are prophesying to you a lying vision, worthless divination, and the deceit of their own minds." (Jeremiah 14:14)
Leaven Continues To Spread
Due to increasing syncretism it's now become increasingly difficult to cover the various strains of unbiblical teaching now slithering their way into the church visible, and which, are quickly blending together in ways we'd previously not even have imagined.
As such Apprising Ministries is an online apologetics and discernment work which has begin specializing in analyzing these current trends in the visible church, apprising you as to what they are, and then informing you as to how you can deal with them.
Case in point would be the rise of the Emergent Church aka the Emerging Church; now a full-blown neo-liberal cult operating within mainstream evangelicalism, which also proved to be a Trojan Horse unloading critical-thinking skills numbing Contemplative Spirituality/Mysticism (CSM)—under the guise of so-called Spiritual Formation—into the very heart of the Christian community.
Sadly, because mainstream evangelcalism would embrace such as these, the visible church now finds itself in the throes of an accelerating apostasy. You need to understand that the spiritual glue is this spurious CSM with its crown jewel, a form of meditation in an altered state of consciousness commonly known as Contemplative/Centering Prayer (CCP); and these Emergent neo-Gnostics who are pushing their TM-lite CCP know that there's a very real "transformation" which occurs after its prolonged practice.
What's not as commonly known however, is that the spiritually whacked Word Faith Movement has also long been involved with prayer in altered states of consciousness as well. In addition to outright contemplative spirituality ala so-called Christian mystics there's always been what's referred to as "praying in tongues" where the practitioner spends time, sometimes hours, allegedly speaking to God in an unknown "prayer language."
Here I'm not going to argue about what the Biblical gift of various kinds of tongues (cf. 1 Corinthians 12:10) may, or may not, be; as anyone who has witnessed this particular phenomenon knows exactly what I'm talking about. Below is a mercifully quick demonstration:
You may believe me that having been considered a "second class" Christian in a church I used to attend many years ago, all because I didn't possess this "gift," I do know all too well whereof I speak. The fact is, this is also a form of neo-Gnosticism where those who do the above are the special "filled" [read: enlightened] ones while others not initiated into this rite, if even considered Christian at all, are looked down upon. It's also important to note that we have also seen this kind of thing within charismatic circles from its beginnings as well.
Believe it or not, these flakes in the WF movement are right now even gaining more credibility within mainstream evangelical circles as evidenced e.g. by Decade Of Destiny With Rick Warren and Charismatic Quasi-Prosperity Preacher Judah Smith; therein I've shown you that "Protestant" Purpose Driven Pope Rick Warren has officially placed his blessing upon Purpose Driven/Seeker Driven pastors like Smith, Perry Noble, and his disciple Steven Furtick, another one of the SD/PD Popes of the Carolinas:
The Hillsong Conference Europe 2010 Promo tells us that Judah Smith shared the platform this past year, yet again, supposedly with "the worlds finest teachers" such as Word Faith prosperity preachers Joel Osteen and Jentezen Franklin:
Hillsong Conference Europe 2010 will again gather the worlds finest teachers, innovators, church builders and worship leaders – men and women with both passion and skill to champion and build the local church in a rapidly moving world. We are thrilled to announce and welcome Joel and Victoria Osteen, Judah Smith and Jentezen Franklin as our 2010 key guests, along with Brian and Bobbie Houston and The Hillsong Team. (Online source)
A Daily Meditation: If You Learn From A Fool, Take A Guess What You'll Become
Here's notorious WF preacher Jentezen Franklin, who often shills for the egregious honeycomb of heresy Trinity Broadcasting Network, in action:
Each of the aforementioned blessed of Rick Warren have using and aligning themselves with Franklin's WF mythology over the past couple of years:
Perry Noble has already had Franklin teach his own church via video in 2008:
PD/SD pastor Steven Furtick himself was actually a featured speaker last year at Jentezen Franklin's Forward 2010 Conference:
And consider the following from Furtick, seen below, where he refers to leading Word Faith properity preacher Joel Osteen as a "great man of God" in this tweet:
stevenfurtick Great night w a great man of God. Thx Pastor Joel 4 your humility & msg of hope. Love & honor! http://yfrog.com/0rto4j (Online source)

(Online source)
That's why I've told you this WF blight upon the visible church is a major pillar of what I've referred to as The Ecumenical Church Of Deceit (ECoD); not quite yet mainstream, but as you can see well on its way as CSM continues anesthetizing discernment within spiritually spineless anything goes evangelicalism. With this in mind then I'll point you once again to INSIDE EDITION Investigates TV Ministers' Lifestyles where IE correspondent Lisa Guerrero did a recent expose concerning "preachers who live like Rock Stars."
As I've said before, although it obviously isn't, it should be readily apparent that these WF vipers are fancifully fleecing their flocks:
One preacher, Paula White, lives in multimillion dollar homes in New York City and Tampa, Florida. And another preacher, Creflo Dollar, gets around in style, flying in private jets to preach around the country. He owns a mansion in an exclusive Atlanta suburb.

Not one of them would would sit down for an interview about their opulent lifestyle so INSIDE EDITION's Lisa Guerrero caught up with Creflo Dollar at an event in New York City. She asked him, "How do you justify your million dollar mansions and private jets to your donors?" Dollar had no comment. (Online source)
Of course this spiritual snake oil salesman doesn't have any comment; because there's absolutely no Biblical defense for this heretical centered on the self (cf. 2 Timothy 3:2) "blab it, grab it" properity preaching. The fact is this dubious deception is an extreme form of ear-tickling (cf. 2 Timothy 4:3-4). Now in the video clip below Word Faith huckster Creflo Dollar says he's going to enlighten us to "just the reality of how people are being deceived." Well, to paraphrase pop philosopher Alanis Morissette, he oughta know.
All I can say is, Dollar is an absolute expert at procuring the deceptive dollar having the nafarious WF leader Kenneth Copeland his as friend and spiritual mentor. You'll hear Herr Dollar begin his Bible-twisting mythology using Galatians 5:16 as his jumping off point — But I say, walk by the Spirit, and you will not gratify the desires of the flesh. You know, it really is sad that so many times false prophets and teachers like Creflo Dollar can't see the Lord's sarcastic side as this WF farce is actually all about how to gratify the desires of the flesh.
See also:
SEDUCING SPIRITS SOUNDING THE SAME
RICK WARREN BRINGS LOVE ON RECORD
RICK WARREN PRESENTS US OUR DESTINY DOCTOR
RICK WARREN, LAVERNE ADAMS, AND CHUCK PIERCE'S GLOBAL SPHERES
DESTINY-DRIVEN DOMINIONISM AND RICK WARREN
PERRY NOBLE SAYS YOU'RE A JACKASS
KENNETH HAGIN AND KENNETH COPELAND: DO REGENERATED CHRISTIANS REALLY TEACH JESUS CHRIST IS A "BORN AGAIN MAN"?