By Ken Silva pastor-teacher on Jun 3, 2010 in AM Missives, Current Issues, Emergence Christianity, Emergent Church, Features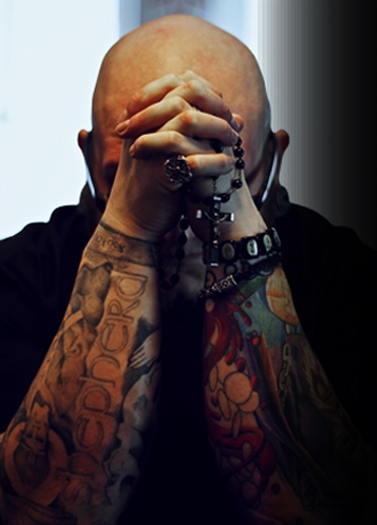 As I urged you when I was going to Macedonia, remain at Ephesus so that you may charge certain persons not to teach any different doctrine, nor to devote themselves to myths and endless genealogies, which promote speculations rather than the stewardship from God that is by faith. The aim of our charge is love that issues from a pure heart and a good conscience and a sincere faith. Certain persons, by swerving from these, have wandered away into vain discussion, desiring to be teachers of the law, without understanding either what they are saying or the things about which they make confident assertions. (1 Timothy 1:3-7, ESV)
This Is The Fruit Of The Emerging Church
Apprising Ministries brings to your attention a segment yesterday from the Fighting for the Faith program of Christian apologist Chris Rosebrough on Pirate Christian Radio. Therein we meet Phil Shepherd aka "the Whiskey Preacher" who's one of  the self-described Outlaw Preachers (OPs). I told you, e.g. in Goodbye Law Of Non-Contradiction And Hello Universalist Christian Pastors, that these insipid OPs are the rather rapscallion bunch of largely biblically illiterate folks who've been spawned by the ministry of gay-affirming "pastor" Jay Bakker of Revolution:NYC.
Shepherd's also fruit of the ministry of heretical universalist Emerging Church pastor Doug Pagitt having been on the "Teaching Team" at his Solomon's Porch, where the heretical progressive/liberal Tony Jones is "theologian in residence." His Phil Shepherd.com website then tells us that "Co-Pastor/Communal Architect" Shepherd, who does have an "M.Div. from Truett Theological Seminary at Baylor University" went on to plant, "The Eucatastrophe in the fall of 07" along with his "wife Stephanie (who is my co-pastor)." [1]
We learn a bit more about Shepherd's Eucatastrophe in an interview conducted by Next-Wave Ezine contributer and Huffington Post writer George Elerick called What Is the Eucatastrophe and Why Should It Matter to Christianity? Elerick begins:
I have this friend, Phil Shepherd. He's a brother-in-arms and a catalyst for change. He's a provocateur and an Alaskan native. He co-pastors a group of experimental people in Texas called the Eucatastrophe, which assembles to talk about God, drink whiskey, and deconstruct life… (Online source)
Elerick next asks Shepherd to tell us about his story, who then informs us:
looking back upon my childhood, the stark reality was that the right-wing, fundamentalist-Christianity crusade I was exposed to as a Southern Baptist in Alaska… I am a recovering fundamentalist — or, as I read recently on a friend's blog, a "funagelical," which is a fundamentalist who happens to be an evangelical… As a side note, I think it's amusing that I am now reading articles that are suggesting that the emergent conversation is dying or is dead. My response to those people is that if they truly think it is dead, then they don't understand it in the first place. (Online source)
George Elerick tells us Shepherd claims to "follow Jesus" and asks him what it means to him:
I claim to follow God through the way of Jesus. Jesus to me is one part of the community of God that many call the Trinity. I think Jesus was and is God incarnate, but he was 100-percent human, too. To me, Jesus led and still leads a revolution of love. In my opinion (which I respect), Jesus' ministry, death, burial, resurrection, and ascension had the sole purpose to show the creation (that he helped create) that we are not pieces of sh*t but a loved creation. (Online source)
Shepherd reveals a bit more about himself in response to Elerick's question concerning how "past experiences with faith" affect the way he sees things today:
the more I get to know my Creator, the more I realize my perspective is limited and there is much that I don't yet know about Him or Her… I am not the type of person that can sit back and let someone abuse or take advantage of someone else simply because they seem to be in weakened state of some kind…  There are some advantages to being big, bald, and tattooed! Some call me a throwback. Some tell me that this is the tension of being a sinner and saint. Some call me a motherf****r because I can be the most loving person you have ever met, but if you mess with my family and friends, I can be the biggest f****r you have ever met. Some tell me I live an outlaw gospel.  (Online source)
Elerick asks Shepherd about the "inspiration behind" his "church":
The Eucatastrophe was a calling from God that turned into a haunting. I knew around age 21 that I was supposed to plant a church and that there was a particular vision God was instilling in me… I had either pastored at or been a part of in sort of capacity over the years: Christ Community Church in Anchorage, UBC in Waco, Mosaic in Austin, 10th Ave. Church in Vancouver, Solomon's Porch in Minneapolis, and L'Abri, a community study center in the Hampshire countryside southwest of London…

It started a bit as a Lenten practice, when we gave up church for Lent — but after Lent, it turned into a purposeful year of reflection and rest from vocational church leadership. Soon this dream instilled in me to plant a church was haunting me day in, day out. One day, in the midst of a worship service, I said, "F**k it, I won't be chickensh*t anymore, God. I'll do it." (Online source)
Well, I think you get the basic idea. However, it's one thing to read it, now below you can listen to Shepherd for yourself as he essentially shares the same story with Chris Rosebrough. It's also quite revealing to see how easily the loving and tolerant mask falls away when Shepherd says of me, and not my belief system, but of me personally:
I will tell you that I have a heck of a lot more respect for you [Chris Rosebrough] than Ken, at least you show up and talk to people. Yeah, you know, I personally think he's a coward; he takes pot shots… He just takes potshots; I think he's a coward. That's just me; unless I know a different side of his story, but we can't find anything on the man so—I don't know his back story; if I knew more of his back story, maybe I'd have a little bit more tolerance and grace for the man. But I just think he's mean. That's a side note…

As much as I can't stand Ken Silva, I still think there's room at the table for him to be heard. You know, an' do I want him to go and be killed; no. Do I think he should [want to?] have me go away; probably. I think he does at times. That's a different story.
(1:46-2:35; 55:32-49 )
The idea that I want Phil Shepherd to "go away," presumably to be killed, is self-serving; and absurd. However, it's fair enough if he wants to attack me; Galatians 4:16 comes to mind here — Have I then become your enemy by telling you the truth? As the late Dr. Walter Martin once said, "It's not unloving to tell people the truth. You can get into a lot of trouble for doing it; but it's not unloving. May we pray God will grant Phil Shepherd repentance because, by his own words, it's now crystal clear that Phil Shepherd has very capably demonstrated he has absolutlely no business whatsoever claiming to be a minister of the Gospel of Jesus Christ.
In the video below you can take a shot of the Whiskey Preacher's first vidcast of the emerging church of the future. And as always with these Emergent Church "pastors" we must also issue a language warning because of their use of profanity; so be forewarned.
Restoration Theology Part 1: Perfection vs. Good from Phil Shepherd on Vimeo.
________________________________________________________________________________
Endnotes:

[1] http://philshepherd.com/, accessed 6/3/10.
See also:
POSTMODERNISM IS SINFUL AND NOT COMPATABLE WITH CHRISTIANITY
EMERGING CHURCH TO TRANSFORM OUTLAW PREACHERS
JAY BAKKER REFLECTS THE SAD CONDITION OF THE VISIBLE CHURCH
OUTLAW PREACHERS KHAD YOUNG AND JAY BAKKER DON'T LOVE ENOUGH
GOD SPEAKS THROUGH CHARLES SPURGEON TO THE EMERGING CHURCH AND ITS OUTLAW PREACHERS?